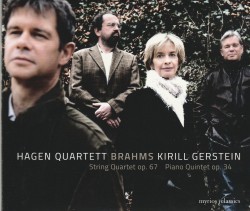 Brahms – String Quartet Op.67; Piano Quintet Op.34
Kiril Gerstein; Hagen Quartett
Myrios Classics MYR021 (naxosdirect.com)
Brahms was happiest at the piano and reluctant to venture into the unknown territory of chamber music involving instruments with which he was not entirely familiar. Many such forays into the unknown were cautiously undertaken. Moreover Brahms had a habit of destroying pieces he did not approve. Considering all of this it is remarkable that his mature chamber work is among the greatest of the 19th century.
The String Quartet No.3 in B-flat Major is one of three quartets which give credence to his view that (for Brahms) the quartet remained a proving ground for experiments of striking originality. It harks back to the world of Mozart and Haydn. Yet throughout, the cycle of nostalgia is muted and it serves only to allow Brahms' interplays and musical tensions to be resolved with greater impact. Schumann once described Brahms' chamber music as "symphonies in disguise" and the Piano Quintet in F Minor is typical of this. It combines the resonances of orchestral music with the differentiated textures of chamber music and is a masterpiece of Brahms' maturity.
Kirill Gerstein offers a legendary interpretation of the Piano Quintet. With high drama, impulsive accelerations, ominous pauses which shrink to a whisper, and moments of deliberation, the work explodes to life. The Hagen Quartett play with such a high level of empathy that at times it's possible to imagine these works were written almost exclusively for them.