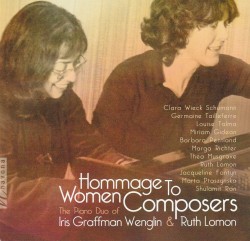 Hommage to Women Composers
The Piano Duo of Iris Graffman Wenglin & Ruth Lomon
Navona Records nv6254
(navonarecords.com)
The duo of pianist/lecturer Iris Graffman Wenglin and composer/pianist Ruth Lomon had been performing traditional two-piano programs when they came up with the idea of playing works by women composers, music that was usually difficult to find and seldom performed. When Lomon was in London, she began to research works, and this project took off. Recorded in 1976 and 1978, and remastered in 2017, this fruit of the duo's labours features pieces by 11 women composers from the Romantic era to the late 20th century.
Two Clara Wieck Schumann piano solos played by Graffman Wenglin set the stage for future tracks. Highlights include Barbara Pentland's Three Piano Duets After Pictures by Paul Klee (1958) featuring spaces and rhythmic attacks interspersed with lyric sections. I love Lomon's composition Soundings for Piano Four Hands (1975) which lives up to its title with wide-ranging atonal piano effects like low ringing lines against higher tones, virtuosic chords and leaps. Thea Musgrave's Excursions (1965) has eight under-one-minute car-driving movements like the bumpy rhythmic The Drunken Driver, the lyrical relaxing The Sunday Driver and the accented heavy chord Backseat Driver. Compositions by Tailleferre, Talma, Gideon, Richter, Fontyn, Ptaszynska and Ran complete the collection.
Graffman Wenglin and Lomon are spectacular musicians, both individually and as a duo. They completely respect and understand the diverse styles, technique, ensemble playing and compositional intricacies of each piece and of each other's musicianship. This timeless recording is a wonderful memorial to Lomon who died in 2017