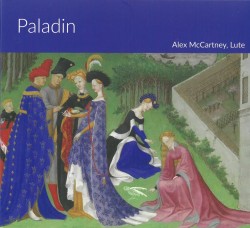 Paladin
Alex McCartney
Veterum Musica Vm022 (alexmccartney.co.uk)
This serene disc is an exploration of the under-represented lute composer Jean Paul Paladin (c1500-1565), who was known as Giovanni Paulo Paladino before his move to France around 1516. Among the monarchs he entertained was Mary Queen of Scots, of interest to the performer Alex McCartney who lives in Scotland.
The disc comes with a single fold insert that gives McCartney space to give us detail about the composer's life and style. His notes finish with a philosophical discussion about his choice of cover art, a gorgeous French-Gothic illumination from a late-medieval book of hours: Paladin's fantasies for him contain a sense of the "multi-layered ritual and meditation" that the book of hours would have also provided.
Indeed, the disc comes across as very contemplative. The playing is smooth, poised, and well balanced, if a little static at times. McCartney explains that Paladin's ten fantasias in particular attracted him to the composer, and he includes nine of the ten here. The other tracks offer two madrigal intabulations and four anonymous preludes, all of which are polyphonic in nature. This means that the whole disc is restricted to contrapuntal genres in slow duple meter – so if you're hoping for something you can tap your foot to, you'll have to look elsewhere. Paladin did publish a bit of dance music, but McCartney is not trying to give us a complete picture of the composer's output. His disc offers instead a meditative escape using Paladin's soothing and exquisite counterpoint.