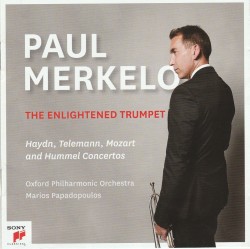 The Enlightened Trumpet
Paul Merkelo (principal trumpet OSM); Oxford Philharmonic Orchestra; Marios Papadopoulos
Sony Classical S80463C (paulmerkelotrumpet.com)
With repertoire spanning the Baroque through the classical eras; Telemann through Haydn, Leopold Mozart and Hummel, The Enlightened Trumpet showcases the bona fide genius of Paul Merkelo, principal trumpet of the Orchestre symphonique de Montréal. After his epic confrontations with Baroque Transcriptions and French Trumpet Concertos, Merkelo deftly combines trumpet and strings in the incisiveness of Haydn's Concerto in E-flat Major (Hob.Vlle.1) with its famously breathtaking Allegro finale, the not inconsiderable demands of which he takes in his stride.
Merkelo then nimbly navigates his way between the rhetoric and energy of Telemann's Concerto in D Major (TWV 51:D7) and Leopold Mozart's Concerto in D Major for trumpet, two horns and strings with appealing melodiousness and – in the second instance – robust interplay with the other horns. The performance of the Hummel Concerto in E Major (S.49) sees its melodic ingenuity projected with due vitality, as well as a stunning degree of spontaneity and expressive poise redolent of Maurice André, Merkelo's legendary predecessor to whom he has been likened. Not without good reason, as this disc attests.
The crowning moments come during the Rondo finale of the Hummel, the cadenza of which has been credited to Timofei Dokshizer. By then, of course, Merkelo has already made his mark, through a bracing workout across three other famous trumpet concertos, with heartfelt eloquence worthy of the reputation he has gained among his trumpet-playing orchestral peers across the globe.