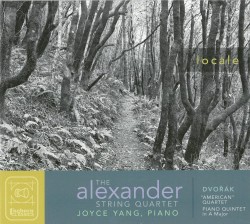 Antonin Dvořák – Locale
Alexander String Quartet; Joyce Yang
Foghorn Classics FCL 2020 (foghornclassics.com)
If I was asked to describe Dvořák's chamber music, I would say it has the characteristics of an abundant ball of energy, the one that brings joy no matter what and is enriched by the occasional touch of Slavic melancholy. The Alexander Quartet and Joyce Yang seem to be particularly attuned to that joy – here is a recording of exuberant energy and vitality that never crosses the line of being too much.
The "American" quartet is probably one of the most beloved pieces in the chamber music repertoire and it shares a number of similar elements with the Piano Quintet Op.81, thus making it a perfect pairing for this album. Although they were written some years apart and on different continents, both pieces are wonderful creations of a showcase of rhythms, dramatic gestures and, above all, memorable melodies, all of which are tastefully presented by the artists on this album. What I find the most pleasurable is the intricate tapestry of textures created by the Alexander Quartet. Their playing brings forth the elegance and lavishness of 19th-century Europe yet it does have a slight contemporary edge in terms of expression. Joyce Yang is on fire here – she displays a perfect interpretational balance between virtuosic agility and grandiose statements so typical for piano music of the Romantic period. Together they make this recording unapologetically exciting.