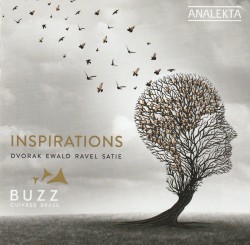 Inspirations
Buzz Brass
Analekta AN 2 8776 (analekta.com/en)
Canada's renowned Buzz Brass ensemble presents "brand new transcriptions of major works" from celebrated composers Antonín Dvořák, Maurice Ravel and Erik Satie. Victor Ewald's Quintet No.3 in D-flat Major (Op.7) is the only work on this disc originally intended for brass.
Inspirations is an attractive recital with each of four gems in this repertoire being polished to a glittering sparkle. This is the work of two Québécois arrangers, François Vallières and Hugo Bégin who – judging by these inspired re-imaginings – certainly ought to be better known than they might be in Québec. The imaginative arrangement of Satie's Gymnopédies ought to be proof enough. But if there needs to be further evidence of highly original musical transcriptions, there is also proof in the transformations of Ravel's String Quartet in F Major (Op.35) and Dvořák's String Quartet No.12 in F Major "American" (B.179). All are highly creative re-arrangements; wholly satisfying both structurally and expressively.
The Buzz Brass parley with the familiarity of old friends, yet their playing always retains the sense of gracious etiquette associated with noble academies for which this music was no doubt originally intended. Nothing is forced, exaggerated or overly mannered; tempi, ensemble and balance all seem effortlessly and intuitively right. The brass sound is lucid. These are, in sum, sincere and poised accounts, a fitting tribute to the faultless character of the original music of the composers.