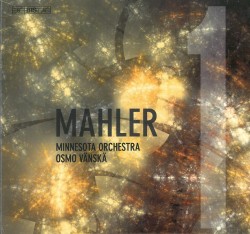 Mahler – Symphony No.1 in D Major
Minnesota Orchestra; Osmo Vänskä
BIS BIS-2346 (bis.se)
This is the fourth entry from the Minnesota Orchestra in a projected Mahler symphony cycle, following releases of the Second, Fifth and Sixth Symphonies under the direction of Osmo Vänskä, the well-regarded Finnish conductor who has devoted himself to bringing this ensemble to international renown since 2003. Mahler's First Symphony, composed in his 24th year, reveals at a single stroke a unique and compelling voice; it remains one of his most-often-performed works. Vänskä's solid and unaffected interpretation of the work, though structurally very well-paced, strikes me at times as a wee bit circumspect, particularly so in the funereal third movement, the opening of which is normally played as a mournful string bass solo but is contentiously (alas, not for the first time) assigned here to the entire bass section, robbing this introduction of its essentially grotesque quality; the underplaying of the intentionally vulgar interruptions of klezmer music that follows is yet another ironic opportunity missed. That being said, the strong bond between this orchestra and their leader provides in the end a highly compelling performance. I was tremendously impressed by the excellence and enthusiasm of the Minnesota musicians – I've rarely heard such a fierce viola section cut their way through the tumult of the finale of the work. Props as well to the recording team lead by Robert Suff; the low-floor recording level and resultant extended dynamic range lend an other-worldly aura to the liminal string harmonics that slowly reveal the magic of this work and conclude with a sonorous account of the glorious brass passages of the finale. While it's admittedly not the definitive performance of this popular work in a very crowded field of contenders, it is certainly a substantially satisfying one.