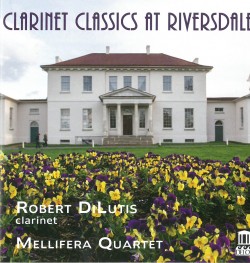 Clarinet Classics at Riversdale
Robert DiLutis; Mellifera Quartet
Delos DE 3561 (delosmusic.com)
What's not to love about Carl Maria von Weber? If you're a clarinet player, only that by the time you're an undergrad, you've been trying to play his various pieces for too long and with too little success. On Clarinet Classics at Riversdale, Robert DiLutis opens with Weber's Quintet in B-flat Major Op.34. Accompanied by the very fine Mellifera Quartet, DiLutis gives a very able rendition. The piece gets dusted off much less often than the Mozart or Brahms works for the grouping, possibly because in the Weber the clarinet is more protagonist than chamber partner: it's never easy convincing a quartet to work with one; then tell them it's Weber and watch the reaction. BUT, Weber is really terrific, and in spite of the odd string writing (the attempted fugue in the finale is… valiant) the work merits a listen. DiLutis can bring the full arsenal of technical tools to the piece. His tone is more on the bright side here than in other tracks, which doesn't please all ears, including this pair.
More sonically pleasing are the following cuts, and I appreciate his inclusion of three lesser-known unaccompanied works ("Classics" is an aspirational title for this collection). Monologue 3 by Erland von Koch should be required reading for clarinet students everywhere, as the Willson Osborne Rhapsody (originally for bassoon) is for my students. I feel the disc has no need of the inclusion of the bit of treacle by Heinrich Baermann, his Adagio for Clarinet and Strings.