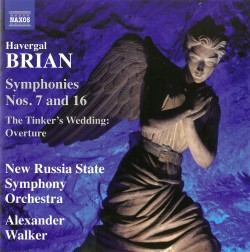 Havergal Brian – Symphonies 7 and 16
New Russia State Symphony Orchestra; Alexander Walker
Naxos 8.573959 (naxosdirect.com)
This CD, part of Naxos's ongoing traversal of Havergal Brian's 32 symphonies, begins with the brightly coloured, perky overture, The Tinker's Wedding, based on the comedy of that name by John Millington Synge. The upbeat mood continues with the fanfare for trumpets and percussion that opens Brian's 38-minute, four-movement Symphony No.7, also from 1948.
The first movement's jaunty character, with processional echoes of Brian's much-admired Elgar, is sustained into the second movement, during which raucous dissonances mark the shift in the symphony's emotional trajectory from light to dark. In the third and longest movement, an adagio filled with skittish, elusive melodies and sonorities brackets an angry, violent scherzo. The final Epilogue, a grim, almost relentless march, resolves harmoniously, but only after two savage climaxes.
The Seventh was the last of Brian's large-scale symphonies. The remaining 25, all composed during the final two decades of Brian's long life (1876-1972), are far more concise. The single movement of the Symphony No.16 (1960) by the 84-year-old Brian lasts only 15 minutes, but its orchestration is anything but miniaturized: quadruple woodwinds, six horns, ten (!) percussionists. Brian wrote that while composing it, he was reading about the Battle of Thermopylae, and the music is martially explosive, prevented from disintegrating by continuous, forward-marching pulsations, even during brief lulls in the mayhem. Brian could create beauty within discord, and a startling sequence of blaring, dissonant chords brings this symphony to a beautiful conclusion.