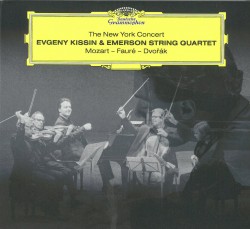 The New York Concert
Evgeny Kissin; Emerson String Quartet
Deutsche Grammophon 483 6574 (deutschegrammophon.com)
The coming together of the inimitable Evgeny Kissin with the Emerson String Quartet represents the high watermark of the 2018 edition of Carnegie Hall's annual programming, reminiscent of the great performances by Martha Argerich with cellist Mischa Maisky, and her chamber-work performances with percussionists Peter Sadlo and Edgar Guggeis, and with pianists Nelson Freire or Nicolas Economou, all documented on Deutsche Grammophon.
Kissin's virtuosity and powerful key touch is without parallel. His dazzling skills are well matched by the electrifying Emerson String Quartet. And the musicians play here with palpable vigour and depth of emotion. Kissin appears to be an outstanding Mozartian, his commanding technique making for the spritely energy of his attack and the radiant manner in the Piano Quartet in G Minor K478. Meanwhile, the Emerson Quartet plays with zeal and focused sensitivity.
Both Kissin and the Emerson also respond warmly and with imagination to Fauré's Piano Quartet No.1 in C Minor, Op.15. The composer invested much in this music which is evident from the harmonic adventurousness and unexpected modulations. Kissin and the Emerson create an appropriate restlessness reflecting the elusive quality of this music.
Dvořák's Piano Quintet No.2 in A Minor, Op.81 is arguably his greatest chamber piece – which Kissin and the quartet play with virtuoso drive and urgency. Dimitri Shostakovich's Piano Quintet in G Minor, Op.57 ends this double disc. It is approached with interpretive intelligence, and features gorgeous tone and expressive power.