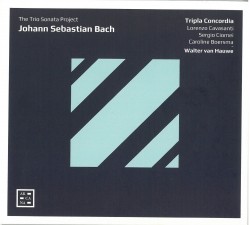 Johann Sebastian Bach – The Trio Sonata Project
Tripla Concordia
Arcana A114 (naxosdirect.com)
What would Bach think? It's the question with which the recorder virtuoso Walter van Hauwe began his proverbial quest to re-imagine Bach's sonatas and a partita as if they were written for his instrument. Van Hauwe also takes comfort from the fact that Bach's contemporary, the composer and writer, Johann Mattheson deemed "the elaboration of an idea" by another composer "does not harm the original inventor" and, one must assume, his original inventions as well.
It is with this in mind that one must approach this wonderfully irreverent music, which is still Bach, but with an iconic twist in articulation and dynamics. While the keyboard remains ubiquitous throughout this repertoire, the viola da gamba has been replaced by a violoncello and both have been embellished by recorders. Most notably, Bach's basso continuo is replaced, quite ingeniously, by the contrapuntal lines of the bass recorder.
As if by magic, Bach's original trio sonatas – the C Minor BWV1029, G Major BWV1039 (1027), F Major BWV1028, D Minor BWV527 and the Partita in D Minor BWV997 – are reborn in subtle shifts in colour as the music moves from one key to another. It is a refreshingly forthright and decidedly wide-awake performance on bright-sounding instruments by Tripla Concordia. Tempi tend to be wonderfully brisk and bright changes in the dynamics let the leading recorders do the work with verve, in crisp and buoyant style and vivid articulation.