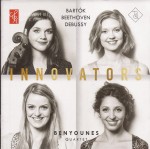 The UK's Benyounes Quartet members celebrate ten years of performing together with Innovators: Bartók-Beethoven-Debussy, a CD featuring three quartets that they feel were both innovative and influential (Champs Hill Records CHRCD147
champshillrecords.co.uk).
Bartók's String Quartet No.2 was written between 1915 and 1917 and clearly shows the direction in which his folk music studies were leading him. In this case it was not only his research in Hungary but in particular a 1913 visit to North Africa to record Arab and Berber music that was clearly a major influence.
Beethoven's String Quartet No.11 in F Minor Op.95 "Serioso" is from 1810; the shortest of his quartets, the sense of struggle and drama is enhanced by the unusually condensed and tense nature of the musical argument.
Debussy's String Quartet in G Minor Op.10 is from 1893 when he was first starting to become known in Paris, and already serves notice on how his harmonic colouring would transform French music and set a new path for the 20th century.
There's impassioned playing throughout, with electrifying pacing, outstanding dynamics and superb individual and ensemble playing.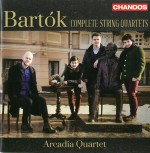 All six Bartók quartets are available on Bartók Complete String Quartets in performances by the Romanian Arcadia Quartet (Chandos CHAN 10992(2)
naxosdirect.com).
The quartet members, who live in Transylvania, a region that was part of the Austro-Hungarian Empire before the Great War and proved a fertile ground in Bartók's folk music research, feel that the folk music influence goes beyond merely providing compositional material here, citing even the most abstract moments in the quartets as ones when the listener is "carried away into a world of mysticism, magic and philosophical reflection."
Their playing is consequently more contemplative and perhaps less abrasive than that of the Benyounes, but is no less committed for that. It's clearly music that has a deep significance for this ensemble.
The four extant string quartets of the Swedish composer Dag Wirén (No.1 was withdrawn) are presented on Wirén String Quartets Nos.2-5 in performances by the Wirén Quartet (Naxos 8.573588 naxos.com).
String Quartets No.2, Op.9 from 1935 and No.3, Op.18, completed in 1945, both support the composer's stated aim to write music "which appealed directly to rather than challenging the listener," although No.3 reflects Wirén's extensive revision of his compositional technique.
String Quartet No.4, Op.28 from 1953 is a darker work with shades of Shostakovich and Sibelius, while No.5, Op.41 from 1970 was written only a few years before Wirén's retirement as a composer, its three short movements ending with an air more of resignation than celebration.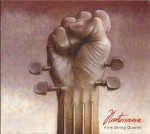 The German composer Karl Amadeus Hartmann was 28 when Hitler became Chancellor in 1933 but, unlike many artists, stayed in Germany, refusing all cooperation with the Nazis and virtually guaranteeing his exclusion from official German musical life. The two string quartets which bookended his life in this period, String Quartet No.1 "Carillon" from 1933 and String Quartet No.2 from 1945-48 are featured on Hartmann with Poland's Airis String Quartet (Accord ACD 245-2 naxosdirect.com).
Replete with allusions to a variety of influences (jazz elements, Jewish melodies and Hungarian folk music, especially that of Bartók) the music is essentially tonal but so strongly chromatic that a key centre rarely seems established. They're quite different and strikingly individual works, redolent of stress and anxiety in time of conflict.
In 1942 Hartmann studied with Anton Webern, and the latter's quite lovely Langsamer Satz from 1905 completes the CD.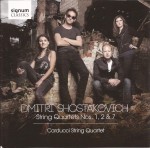 In 1938 Dmitri Shostakovich wrote the first page of what turned into his String Quartet No.1 in C Major Op.49 as an exercise with no intention of finishing it. Captivated by the process, however, he completed the full quartet in less than two months. It's included on Shostakovich String Quartets Nos.1, 2 & 7, the latest CD from the UK-based Carducci String Quartet (Signum Classics SIGCD559 naxosdirect.com).
The String Quartet No.2 in A Major Op.68 from 1944 is a much larger and more ambitious work, but it's the terse String Quartet No.7 in F-sharp Minor Op.108 from 1960 that despite its brevity (just over 12 minutes) has the most typical Shostakovich quartet sound.
The Carducci Quartet has performed complete cycles of the Shostakovich quartets and has previously recorded quartets numbers 4, 8 and 11 for Signum Classics. It's not clear if this new release is part of an ongoing complete recording of the cycle, but such a set would be warmly welcomed.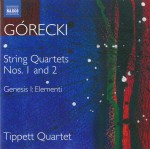 If you only know the music of Henryk Górecki from the astonishingly successful Dawn Upshaw recording of his Symphony No.3: Symphony of Sorrowful Songs then the music on Górecki Complete String Quartets 1 (Naxos 8.573919 naxos.com) may come as something of a shock.
Górecki wrote three quartets for the Kronos Quartet: No.1 Op.62 "Already it is Dusk" in 1988; No.2 Op.64 "Quasi una fantasia" in 1991 and No.3 Op.67 . . . songs to be sung in the mid-1990s. The first two, along with the early string trio Genesis I: Elementi Op.19, No.1 from 1962 are performed with full-blooded commitment by the UK's Tippett Quartet. The single-movement first quartet and – in particular – the string trio are a tough listen, the booklet notes referencing extended playing techniques, assaultive gestures, note clusters, chord sequences of real vehemence and writing that exploits the timbral extremes of the ensemble.
The four-movement Quartet No.2 is more accessible, with clear influences of Beethoven and Shostakovich, but the familiar juxtaposition of consonance and dissonance is still present.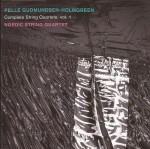 The Nordic String Quartet is the ensemble in Pelle Gudmundsen-Holmgreen Complete String Quartets Vol.1 (Dacapo 8.226217 naxosdirect.com), world premiere recordings of the first six of the Danish composer's 14 quartets written between 1959 and 2013.
The works are predominantly quite brief. The first three are all from 1959: String Quartet No.1 is a single-movement Andante of less than nine minutes; the four movements of No.2 "Quartetto Facile" total less than 12 minutes; No.3 "Five Small Studies" doesn't reach five minutes – small studies indeed!
String Quartets No.4 (1967), No.5 "Step by Step" (1982-86 revised 2003) and No.6 "Parting" (1983) are all single movements ranging from six to 19 minutes in length.
The music is difficult to describe, but touches on a wide range of influences – Bartók, Stravinsky, serialism, minimalism, Ligeti – while always maintaining an individual character. It will be interesting to hear what the later quartets are like.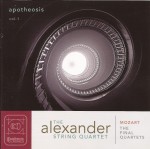 Volume 2 of Apotheosis: Mozart, the Alexander String Quartet series of the late chamber works and featuring the Piano Quartets, was reviewed here last October, but Volume 1 The Final Quartets has only just been released (Foghorn Classics FCL2016 foghornclassics.com). The four works on the two-CD set are the String Quartet in D Major K499 "Hoffmeister" and the three Prussian Quartets in D Major K575, B-flat Major K589 and F Major K590.
The quartet's violist Paul Yarbrough describes the works as having "beauty, clarity, communication of the highest order, and – above all – balance." It's also an excellent description of the simply lovely playing here. Volume 3 – the Clarinet Quintet and the String Quintets – promises to be a terrific conclusion to an outstanding series.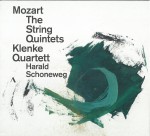 In the meantime, Germany's Klenke Quartett is joined by violist Harald Schoneweg on Mozart The String Quintets, a quite beautiful three-CD issue that sets a very high standard (Accentus Music ACC80467 accentus.com). Having already recorded the complete Mozart string quartets, the Klenke Quartett saw the recording of the six quintets – No.1 in B-flat Major K174, No.2 in C Minor K406, No.3 in C Major K515, No.4 in G Minor K516, No.5 in D Major K593 and No.6 in E-flat Major K614 – as a logical continuation.
Phrasing, the use of vibrato, and articulation are based on historically informed performance techniques, and contribute to the ensemble's superb clarity, sensitivity and an innate understanding of the richness and wide-ranging emotional moods of these wonderful works.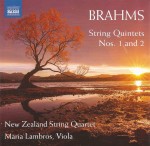 The New Zealand String Quartet is joined by violist Maria Lambros in Brahms String Quintets Nos.1 and 2, a recording that completes their three albums of Brahms chamber music for Naxos (8.573455 naxos.com).
The quintets, No.1 in F Major Op.88 from 1882 and No.2 in G major Op.111 from 1890, are relatively late works, with the choice of viola as the additional instrument bringing a warmth and richness to the inner texture that creates a perfect soundscape for Brahms' characteristic feel of autumnal reflection and nostalgic yearning.
The CD was recorded in the resonant acoustics of St. Anne's Anglican Church in Toronto by the ever-reliable team of Norbert Kraft and Bonnie Silver.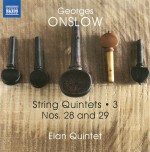 There's more string quintet playing – this time with a double bass instead of a second viola – on Georges Onslow String Quintets Vol.3, with the Elan Quintet playing String Quintets No.28 in G Minor Op.72 and No.29 in E-flat Major Op.73 (Naxos 8.573887 naxos.com).
Onslow, born in France in 1784 to a French mother and English father, wrote 36 string quartets and 34 string quintets, music that was stylistically more German than French. Published in 1849 towards the end of Onslow's life, the two quintets here are early Romantic works with clear hints of Schubert and Mendelssohn. The addition of the double bass to the string quartet produces a chamber orchestra feel, adding depth without ever being too prominent.
It's really lovely music – warm, inventive, humorous and extremely well-written – by a musician who clearly knew his craft. The Elan Quartet's performances of these charming works are highly enjoyable.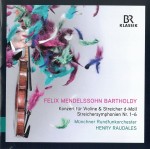 Henry Raudales is the soloist and conductor of the Münchner Rundfunkorchester on Felix Mendelssohn Bartholdy Concerto for Violin & Strings in D Minor and String Symphonies Nos.I-VI (BR Klassik 900324 naxosdirect.com).
Written when the composer was only 13, the concerto remained virtually unknown until Yehudi Menuhin revived it in 1951. It's a lovely work, full of the lightness and agility so typical of Mendelssohn's later works, and performed here with equal lightness, agility and dynamic nuance by all concerned.
The six String Symphonies from 1821 (when the composer was only 12 years old!) are the first half of the 12 that Mendelssohn wrote between 1821 and 1823. Thanks to his studying composition with Carl Friedrich Zelter, the symphonies are modelled on those of Carl Philipp Emanuel Bach, whose Hamburg Symphonies had created the three-movement form for string orchestra. Again, the works remained in manuscript form until being rediscovered in 1950.
Stylish performances complete a delightful CD.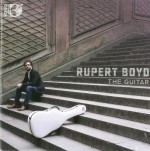 The Guitar is the third solo album from the Australian guitarist Rupert Boyd, and pays homage to the instrument's ability to embrace a truly wide range of repertoire (Sono Luminus DSL-92231
sonoluminus.com).
Only two works on the CD – Fernando Sor's Introduction and Variations on a Theme by Mozart and Leo Brouwer's ten brief Estudios Sencillos I-X – were originally written for the guitar, although the Suite in E Major BWV1006a was Bach's own reworking of his Partita No.3 for Solo Violin, and A Closed World of Fine Feelings is Australian composer Graeme Koehne's reworking of his own solo piano piece.
Arrangements of two pieces by Antônio Carlos Jobim – Felicidade and Estrada Branca – open the disc, and arrangements of Astor Piazzolla's Milonga del Angel and La Muerte del Angel followed by Boyd's own lovely arrangement of John Lennon's Julia close it.
It's a nicely balanced program that always holds your interest and has much to offer, with clean, resonant and idiomatic playing throughout.