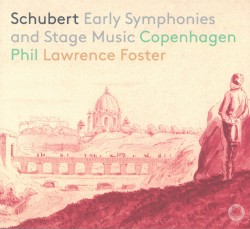 Schubert – Early Symphonies and Stage Music
Copenhagen Phil; Lawrence Foster
Pentatone PTC 5186 655 (naxosdirect.com)
In today's busy society and fragmented music business, it is a true privilege to have the opportunity to listen through a two-disc set of large-scale ambitious symphonic work, particularly when it is performed, recorded and released as expertly and beautifully as has been done so by Pentatone Records on their recent Franz Schubert release: Early Symphonies and Stage Music. Comprised of some of Schubert's lesser-known work, the Copenhagen Philharmonic, under the watchful direction of longtime Pentatone artist, conductor Lawrence Foster, wrings expressive beauty from Schubert's masterful classical works, written when the Austrian composer was but a teenager. With the clear time, effort and degree of musical specificity that has gone into the performance and presentation of this music, this is truly a recording worth attention and will be time well spent when immersing yourself in these documented sounds.
Symphonic work truly has the ability to inspire and, to paraphrase a well-known adage, to wash away the banality of everyday life and move the needle forward to something more otherworldly and profound. While such lofty platitudes are most often reserved for the more famous symphonies of Beethoven and Brahms, Schubert's music can be equally inspiring, as evidenced here. Presented alongside his Romantic Italian Overture in D Major and captured in 2017 at the Concert Hall of the Royal Academy of Music in Copenhagen, this 2019 release is a welcome addition to the collections of Schubert fans everywhere wanting to expand their knowledge of his music beyond lieder.