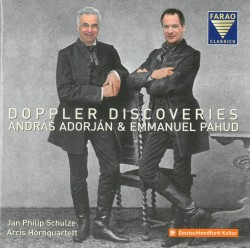 Doppler Discoveries – Flute Compositions by Franz and Carl Doppler
András Adorán; Emmanuel Pahud; Jan Philip Schulze; Arcis Hornquartett
Farao Classics B 108104 (farao-classics.de)
Brothers Franz (1821-1883) and Carl Doppler (1825-1900), their era's leading flute virtuosi, worked chiefly in the urban centres of the Austro-Hungarian Empire. Both were engaged as flutists in major orchestras, toured Europe as soloists, and were successful conductors and composers of recital repertoire, opera and ballet (mostly in Budapest). They hobnobbed with music celebrities of the day like Liszt and Brahms.
Then, sadly, they were all but forgotten. Until well past the mid-20th century the Doppler name was virtually unknown save for classical flute players. Due to research begun in the 1970s by the Hungarian flutist András Adorján however, that neglect has begun to be remedied.
Adorján's discoveries challenged the long-held misconception that a Doppler flute composition consisted of hackneyed paraphrases and facile variations. But when he found Franz Doppler's unpublished Double Concerto for two flutes, the work proved so attractive that it immediately became part of the standard repertoire. Seven such Doppler compositions, featuring one or two flutes, played by renowned flutists Adorján and Emmanuel Pahud, grace the Doppler Discoveries album. The works are delightful and the playing aptly brilliant.
The biggest revelation for me is how convincing the three Hungarian-themed works are, reflecting the Dopplers' deep engagement with Hungarian vernacular music and society of the mid-19th century.
I typically choose a favourite track or two in my CD reviews. On this album that isn't possible: they're all terrific. Just try not to smile while listening to two of today's crack flutists revive long-lost scores by those fascinating Dopplers.