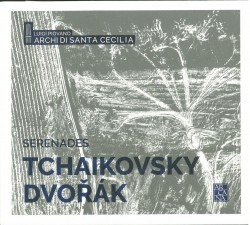 Tchaikovsky; Dvořák – Serenades
Archi di Santa Cecilia; Luigi Piovano
Arcana A 457 (naxosdirect.com)
Nice surprise, hearing again my two favourite Serenades for strings back to back on a single disc, the Dvořák E Major and the Tchaikovsky C Major. These two are probably the most beautiful of the genre that began with Mozart and later, Beethoven, Schubert and Brahms. Serenades are light symphonies, with less complex structures, written for entertainment like divertimentos with the emphasis on melody.
I first heard the Dvořák at a concert with a very young István Kertész conducting in Budapest around 1954, but not even once ever since, so it comes back as an old friend, opening with a heavenly melody one hears and never forgets. The five movements vary in mood, tempo and dynamics, each bursting with gorgeous, fresh melodies and even a Czech folk tune in the presto Finale, ending in a festive spirit. The Tchaikovsky is a masterwork of the first order with an all-pervasive melancholy and one of Tchaikovsky's best-loved waltzes as its second movement. The virtuoso strings amazed me particularly in the first movement's polyphonic intricacy and the third movement Elegy, so heartrending one could cry. The boisterous Russian dance Finale bounces along with energy and excitement.
This superb new recording by Archi di Santa Cecilia, formed from the best string players of Rome's famous Santa Cecilia Orchestra and led by an equally talented conductor, Luigi Piovano – and how! He delves into the music with body and soul and I imagine the orchestra moves with him and his every gesture. A tremendous rapport, like hypnosis, that only a Gergiev, Ozawa, Solti or the great Karajan could muster. Highly recommended.