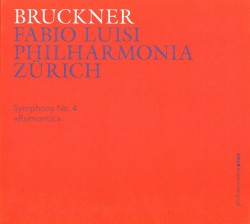 Bruckner – Symphony No.4 "Romantic"
Philharmonia Zurich; Fabio Luisi
Philharmonia Records PHR 0110 (opernhaus.ch)
Great Bruckner conductor Sergiu Celibidache once put a question to his conducting class: "Why is the second scherzo different from the first scherzo?" Only one student knew the answer: "Because we already heard the first scherzo." Well, Fabio Luisi certainly kept this in mind in his new recording of Bruckner's Fourth as the scherzo repeat brings many surprising, previously unheard details like birdcalls, strange little chirpings on the woodwinds and other bells and whistles.The famous "Hunt" Scherzo, rarely sounded better. The Zurich brass is gorgeous, the Ländler Trio graciously shaped. A real auditory adventure.
I first came across Fabio Luisi as principal conductor of the Met when he bravely took over their revolutionary Ring project in 2011 after James Levine became ill. So it's not surprising, being also an outstanding interpreter of Italian opera, that his approach to Bruckner is essentially melodic. This becomes immediately apparent in the secondary theme of the first movement which is lovingly handled and sings so beautifully. Right at the outset the emerging horn theme from the near inaudible tremolo of strings creates a mystical atmosphere, and the crescendo at the end of the movement is carefully paced to a resounding Brucknerian brass peroration.
This is a very relaxed reading; the tempo is slow, which helps to uncover all the wonderful details the conductor brings to attention, such as after the tremendous climax in the second movement when everything calms down, all is quiet with only the tympani pounding softly like a heartbeat and the horn quietly answering. It's pure magic.
Beautifully detailed, gorgeous modern sound, eloquent and gracious Bruckner.