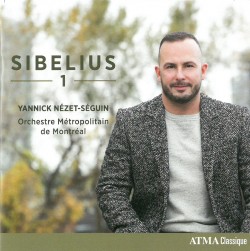 Sibelius 1
Orchestre Metropolitain; Yannick Nézet-Séguin
ATMA ACD2 2452 (atmaclassique.com/En)
Jean Sibelius was still under the influence of Tchaikovsky when he wrote his Symphony No.1 in E Minor Op.39, but these Russian overtones coexist with assuredly individualistic orchestral textures and themes. At the very opening, for example, in a highly original stroke, a clarinet over a gentle timpani roll introduces the main theme, which achieves its apotheosis at the climax of the finale.
In the second movement the debt to Tchaikovsky is clearly revealed in the way the languidly mournful opening theme is developed prior to the stormy climax. An emphatically rhythmic Scherzo reveals another influence: Bruckner, a composer whose music Sibelius had first encountered in Vienna in 1890. The finale, marked quasi una fantasia, veers between frenzied agitation and a grandly refulgent big tune in which the strings predominate.
As this disc reveals, in the right hands the First Symphony can be an extremely exciting work. Yannick Nézet-Séguin seems to give notice that he is one of the great Sibelians of the contemporary era, as he finds just the right level of energy. His control of the mood and poetics of the work – its gradations of bleakness and majesty – is affecting. As the symphony unfolds the Orchestre Métropolitain de Montréal, for its part, responds with a brilliance that is never forced.