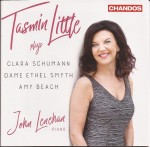 On her latest Chandos CD Tasmin Little plays Clara Schumann, Dame Ethel Smyth & Amy Beach (CHAN 20030 chandos.net), the outstanding English violinist is accompanied by her longtime recital partner John Lenehan. All three women composers were encouraged by their families in their early musical endeavours but experienced far less support, if not outright opposition, when it came to pursuing professional careers.
Beach's Violin Sonata Op.34 from 1896 is a full-blooded work with sweeping melodies and rich harmonies in the German Romantic tradition; music critics in Berlin noted its indebtedness to Robert Schumann and Brahms. It draws big, strong playing from both performers.
Clara Schumann's compositional activity declined – by choice – after her marriage to Robert, and the Drei Romanzen Op.22 from 1853 was her final chamber work. Originally described as being for piano and violin these lovely pieces again feature flowing melodies for the violin over quite demanding passage work for the pianist.
Ethel Smyth's Violin Sonata Op.7 from 1887 also shows a strong Germanic influence, hardly surprising given that ten years earlier the then-19-year-old composer had moved to Leipzig to study and had spent the subsequent decade on the continent, being encouraged by both Clara Schumann and Brahms.
Two lovely short pieces by Beach – Romance Op.23 and Invocation Op.55 – complete a terrific CD. Little has announced her decision to retire from the concert stage in 2020 when she turns 55. Presumably – and hopefully – it won't include an end to her outstanding series of superb CDs.
Clara Schumann's Three Romances Op.22 appear again on another recital of works by women composers, this time as the opening tracks on ELLES, featuring the Canadian duo of violist Marina Thibeault and pianist Marie-Ève Scarfone (ATMA Classique ACD2 2772 atmaclassique.com/En). There's no word on the transcription source (a viola version was published in 2010) for this or the following work on the CD, the Trois pièces pour violoncelle et piano by Nadia Boulanger. Written in Boulanger's mid-20s, some seven years before she gave up composition to concentrate on teaching, the piano again features prominently in three brief movements, two of which were transcriptions of organ improvisations.
A very brief setting of a Goethe poem by Fanny Hensel, Mendelssohn's highly talented sister, precedes the two major works on the disc: Rebecca Clarke's Sonata for Viola and Piano from 1919; and the Sonate Pastorale for solo viola by the American violist Lillian Fuchs. A professional violist, Clarke left a wealth of viola works that finally seem to be attracting the amount of recording attention they richly deserve. Written in New York, her sonata is redolent of contemporary French music.
In all the viola and piano works, Thibeault plays with a pure tone and a smooth melodic line, ably supported by Scarfone; there are times, perhaps, when a stronger attack could be used. That, however, is exactly what we get in the two unaccompanied works that follow. Fuchs wrote little in a long life (both she and Clarke made it into their 90s) but the three-movement Sonate is a simply terrific work that brings the best playing on the CD from Thibeault.
Another solo work that began as a piece for cello, young Canadian composer Anna Pidgorna's The Child, Bringer of Light from 2012, ends the CD. Its eight continuous sections use a variety of techniques to great effect and once again show just how talented a player Thibeault is.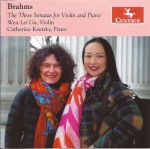 There's a really lovely set of the Brahms Three Sonatas for Violin and Piano featuring the duo of violinist Wen-Lei Gu and pianist Catherine Kautsky (Centaur CRC 3684 naxosdirect.com). Both performers are on the music faculty at Lawrence University in Appleton, Wisconsin.
The opening bars of the Sonata No.1 in G Major Op.78 always seem to set the tone for all three works, and it's clear from the outset here that we are in excellent hands. From the autumnal feel of the first sonata through the warmth of the Sonata No.2 in A Major Op.100 to the passion and restlessness of the Sonata No.3 in D Minor Op.108 the playing here is all you could ask for, with warmth, sensitivity, passion when needed and an ever-present sense of innate musicality.
If you collect different performances of these lovely sonatas then this will make a strong and welcome addition to your CDs; if you're just looking for one set then this one has a great deal to offer and will certainly not disappoint you.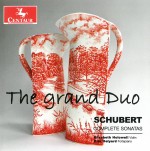 The Australian violinist Elizabeth Holowell studied Viennese string performance practice during the 1780 to 1820s in her postgraduate work – studies which had a major influence on The Grand Duo, her recording of the Schubert Complete Sonatas for Violin and Piano with Erin Helyard at the fortepiano (Centaur CRC 3665 naxosdirect.com).
The result is an attempt to recreate as far as possible what a contemporary performance of the music would have sounded like. The violin here is without modern fittings and has gut strings; the bow is described as a pre-Tourte transitional model. More significantly, the fortepiano is a new copy of a contemporary Viennese model by Conrad Graf that has six pedals that provide a variety of special tonal effects, including one for Turkish or janissary bells and drums.
Holowell says that interpretation of the notation of these works led to reassessments of tempo, dynamics, phrasing, bowing and articulation. The recording levels also reflect the fact that the three 1816 sonatas – in D Major D384, A Minor D385 and G Minor D408 – were published as sonatas "with violin accompaniment." The Sonata in A Major D574, known as The Grand Duo completes the CD.
The results are, at times, quite startling. It's part Historically Informed Performance, part early Romantic in style: vibrato comes and goes; there's portamento and elasticity in tempo and phrasing; and very occasional pitch issues with the gut strings. Above all, the fortepiano sound varies a good deal, including adding crashing bells and drums to the occasional chord. It's intriguing and always more than merely interesting, but it will probably come down to a matter of personal taste as to whether you feel that this approach really enhances the music and your understanding of it, or merely serves as a historical demonstration.
Either way, it's not your standard Schubert recital!
There are two quite superb guitar CDs from Naxos this month, both beautifully recorded at St. Paul's Church in Newmarket, Ontario with the ever-reliable Norbert Kraft as producer, engineer and editor. At the Naxos retail price they are both simply must-buys for any lover of the classical guitar.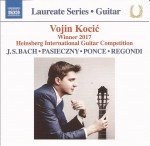 The debut CD by Serbian guitarist Vojin Kocić (born 1990) follows his win at the 2017 Heinsberg International Guitar Competition in Germany – and what a debut it is, with music ranging from the Baroque to the present day (8.573906 naxos.com).
Kocić's own arrangement of the Bach Partita No.2 in D Minor BWV1004 for solo violin works beautifully. It's essentially the violin score note for note, with a crystal-clear line, superb articulation in the numerous fast runs, a lovely sense of pulse and a warm resonance that allows the implied harmonies to sound through. In particular, the guitar's chording ability means that the multiple stopping – always a stumbling block for violinists – ceases to be a problem. It makes the Sarabande and, in particular, the monumental Chaconne (with its quadruple stops) smoother, calmer and – appropriately – more stately. Add beautifully shaped phrasing that displays musicianship to match the impeccable technique and you have a performance that will stand comparison with any.
The standard never drops in the other three works on the CD. The Introduction et Caprice Op.23 is a dazzling work by Giulio Regondi, the 19th-century prodigy whose music fell into oblivion before being republished in 1981. Manuel Ponce wrote his Diferencias sobre la folía de España y Fuga for Segovia in 1930; it's one of the more challenging works in the standard repertoire.
Marek Pasieczny's Phosphenes (After Sylvius Leopold Weiss) was commissioned by the International Guitar Festival as a set piece for their Guitar Masters 2016 competition in Warsaw. It's a fairly short but tough work that shows Kocić equally comfortable in the contemporary field.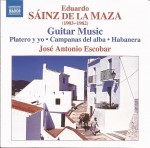 The Chilean guitarist José Antonio Escobar (born 1973) is the soloist on the second CD, Guitar Music of Eduardo Sáinz de la Maza (8.573456 naxos.com). The composer's life spanned most of the 20th century, and the works here are mostly from the period 1961 to 1973.
The main work on the CD is the lovely Platero y yo (Platero and I), a suite of eight scenes from the 138 prose-poems of the same name by the Spanish poet Juan Ramón Jiménez that illustrate tales of the donkey Platero and his owner. It's a work full of tenderness and colour. Ten shorter works that still serve to illustrate the composer's technical and expressive breadth fill out the CD, including a delightful Habanera that involves tuning down the two lower strings and three Homenajes – homages to Haydn, Toulouse-Lautrec and the guitar itself.
Again, the playing here is clean, warm, resonant and full of colour, and with impeccable technique, the fast tremolo in the Campanas del Alba (The Bells of Dawn) being particularly brilliant.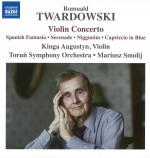 The music of Lithuanian composer Romuald Twardowski (b.1930) is presented on Violin Concerto, featuring the New York-based Polish violinist Kinga Augustyn with Poland's Toruń Symphony Orchestra under Mariusz Smolij (Naxos 8.579031 naxos.com). Twardowski's music is described as blending tradition and modernity with what the composer calls "a clarity of expression," and the works here are all highly accessible and finely crafted.
Three pieces – the brilliant Spanish Fantasia from 1984, Niggunim "Melodies of the Hasidim" from 1991 and Capriccio in Blue "George Gershwin in memoriam" from 1979 – were originally for violin and piano and later orchestrated by the composer. The respective influences – Andalusian music, Polish/Ukrainian Jewish melodies, and jazz – are captured effectively and give the soloist ample opportunity to display a range of styles.
The major work is the quite lovely 2006 Violin Concerto, a mainstream work with a challenging cadenza. The Serenade for string orchestra from 2003, another lovely work with a lush Andante movement, completes the CD. Augustyn's playing is clear, warm and assured, untroubled in the technically challenging passages and with a flowing line in the many melodic sections. Orchestral support and recorded sound are both excellent.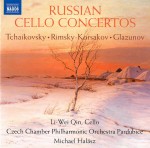 Li-Wei Qin is the cello soloist on Russian Cello Concertos with the Czech Chamber Philharmonic Orchestra Pardubice under Michael Halász (Naxos 8.573860 naxos.com). It's a somewhat misleading title, given that of the seven works on the CD only one – Glazunov's Concerto ballata in C Major Op.108, written in 1931 after he had left Russia – is anything like a true concerto, although admittedly Tchaikovsky's Variations on a Rococo Theme in A Major Op.33, heard here in the usual revised and rearranged version by the composer's colleague Wilhelm Fitzenhagen, does come close.
Qin draws a lovely sound from his 1780 Guadagnini cello in the two major works as well as in the shorter recital pieces: Glazunov's Deux Morceaux Op.20 and the Chant du ménestrel in F-sharp Minor Op.71; Tchaikovsky's Pezzo capriccioso in B Minor Op.62 and the Andante Cantabile from his String Quartet No.1 in D Major Op.11; and Rimsky-Korsakov's Serenade Op.37.