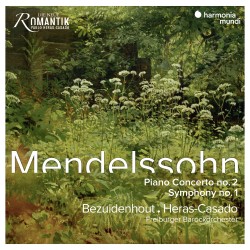 Mendelssohn: Symphony No.1; Piano Concerto No.2
Kristian Bezuidenhout; Freiburger Barockorchester; Pablo Heras-Casado
Harmonia mundi HMM 902369 (smarturl.it/xs369d)
This brand new issue belongs to a series initiated by young conductor Pablo Heras-Casado's Diving into German Romanticism and what better way to start than Mendelssohn? Mendelssohn was probably one of the most gifted musicians that ever lived and was capable of composing a symphony for full orchestra at the age of 12!
Perhaps due to the superiority of his later mature works, Symphony No.1 has been unjustifiably neglected but it's certainly worth hearing as it is performed here. Typically sturm und drang and written in the sombre key of C Minor, the first movement is full of sound and fury at a frantic speed of Allegro di molto with strings rushing like a whirlwind demonstrating this orchestra's amazing virtuosity. Peace and solace relieve the storm in the beautiful second movement that sings like one of Mendelssohn's Lieder Ohne Worte where the interplay of woodwinds is a pure delight. The dominating C Minor stormy mood returns Allegro con fuoco piu stretto in the fourth movement with interesting contrapuntal episodes but ending the symphony triumphantly in a major key.
The Piano Concerto No.2 in D Minor was regrettably completely overshadowed by Mendelssohn's popular, irresistible first foray into the genre. However, South African Kristian Bezuidenhout's agile brilliance yet gentle touch on the Fortepiano Érard (Paris 1837) plus a highly precise and exciting period instrument accompaniment, makes this concerto truly shine.
As the recording progressed I found myself falling in love with Mendelssohn over and over again. And that energetically driven, passionate rendition of the Fair Melusina Overture tops it all. I haven't heard it played as beautifully since Sir Thomas Beecham.