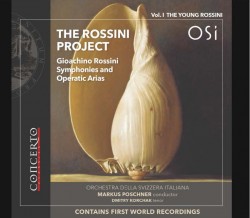 The Rossini Project Volume 1 – The Young Rossini
Orchestra della Svizzera Italiana; Markus Poschner
Concerto Classics CD 2112 (naxosdirect.com)
Rossini was a wunderkind who came on the musical scene like a comet and music just poured out of him, much like Mozart. His creative genius never diminished and his greatest works came near the end of his long life. Last year was the 150th anniversary of his death and this ongoing ambitious project, which includes some first recordings, has been created with the Lugano-based Swiss orchestra to explore and record much of his lesser-known and hitherto unedited works. It certainly starts off splendidly with a wonderfully pointed, sparkling rendition of the Overture to L'Italiana in Algeri. Though not at all unknown, it immediately demonstrates the gifted young German conductor Markus Poschner's obvious affinity to Rossini. The overtures that follow are youthful attempts but already showing the lion's teeth of the master emerging, as in the alternate version of L'equivoco stravagante (1811) with its beautiful horn solo and subsequent brilliant use of woodwinds, and the first manifestations of the Rossini crescendo in Tancredi Overture.
The period covered (1808-14) is mostly from Venice, young Rossini's first major stop, just up the Adriatic coast from his birthplace Pesaro where he ran away as a teenager to become the toast of the town in a few years. The Venetian sojourn produced a dozen operas, two of them masterpieces: L'Italiana in Algeri and Tancredi , the latter duly represented here by excerpts and sung by virtuoso, strong Russian tenor Dmitry Korchak, who proves to be very much at home in Rossini's murderous tessituras.
Highly recommended – a most enjoyable inaugural release in a series worthy of Rossini.