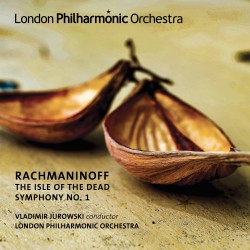 Rachmaninoff – The Isle of the Dead; Symphony No.1
London Philharmonic Orchestra. Vladimir Jurowsky-cond.
LPO Live LPO 0111 (lpo.org.uk/recordings-and-gifts)
Rachmaninoff's First Symphony hasn't had an easy time. Conductor Glazunov was drunk and made it a dismal failure at its premiere in 1897 and the discouraged young composer locked the score away vowing never to perform it again. The original score was never found, but miraculously the orchestral parts were discovered in 1944 and it was performed once more in 1945 in Moscow.
This new performance comes from a recent concert in London conducted by Vladimir Jurowsky and what a concert it must have been! The audience went wild and the critics were raving and I imagine Rachmaninoff must have been very pleased and the symphony vindicated. Royal Philharmonic Society 2018 award winner Jurowsky's name may not be too familiar, but he is one of the most sought after conductors and has a tremendous worldwide reputation that's well proven here.
None of this music will come to you easily, in fact it requires several hearings and total concentration to appreciate Jurowsky's "hypnotic drive," especially in The Isle of the Dead's sinister 5/8 ostinato undulating motion representing Charon the oarsman rowing a boat towards the other shore. It brought an "eerie chill" to the Festival Hall, one critic remarked.
The Symphony itself was a triumph. Rachmaninoff is the connecting tissue in Russian music between Tchaikovsky and Shostakovich and here you can see why. It has youthful excitement, intense passion and a tremendous emotional depth Jurowsky brings out to the utmost. The last movement Allegro con fuoco is where it all comes together; it's both "frightening and triumphant" and one could feel the intensity and frisson of the live performance.