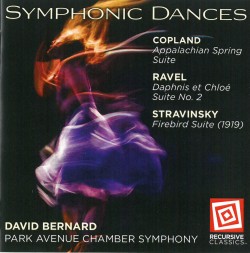 Symphonic Dances – Copland; Ravel; Stravinsky
Park Avenue Chamber Symphony; David Bernard
Recursive Classics (naxosdirect.com)
Pity the ballet orchestra musician; so much great music gets borne away from their pit by the changing tides of dance fashion. The 20th century is littered with scores from the early moderns that were introduced as dance accompaniment and became, instead, great works for the symphony stage. Hardly anyone stages Stravinsky's The Rite of Spring anymore, and almost all of Ravel's works are similarly banished from the standard ballet repertoire.
The Park Avenue Chamber Symphony, under conductor David Bernard, has recorded three modern masterworks: Aaron Copland's Appalachain Spring Suite, Ravel's Daphnis and Chloe Suite No.2, and Stravinsky's Firebird Suite. With time and space, one could discuss the ways ballet scenarios changed from the mythic to the mundane as reflected in the selected works, but better to leave that to dance critics. These are, above all, wondrous works that orchestral players love to sink their chops into, and symphonic audience members love them as much.
All three are now period pieces of early- to mid-20th-century French and American music. Don't tell me Stravinsky was neither; he wrote for the tastes of his audience, and The Firebird often sounds a lot like Ravel. And of course, Copland was deeply influenced by Nadia Boulanger.
The recordings took place in three different locations, the orchestra may well have had a few interchangeable players, and the 1919 Kalmus version of the Firebird score was edited, possibly to suit the size of the orchestra. The playing is uneven, especially as regards intonation, and microphone placement brings the wind soloists uncomfortably close, but the performances are careful and loving; in fact it's just nice to hear a scrappy, not-quite-perfect recording of any of this material, which might make it more period-authentic than anything else.