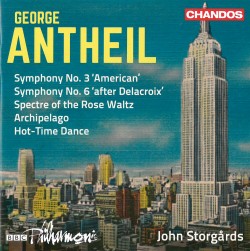 George Antheil – Symphonies 3 & 6
BBC Philharmonic; John Storgårds
Chandos CHAN 10982 (naxosdirect.com)
The 1940s was an especially busy decade for the prolific American composer, pianist, author and inventor George Antheil (1900-1959). With the spectre of WWII looming in the USA, in 1941 he and the actress Hedy Lamarr set out to develop a code-based radio guidance system for torpedoes. He also continued to turn out scores for Hollywood features (his catalogue lists 30), while his 1945 autobiography Bad Boy of Music – referring to the international avant-garde reputation he attracted in the 1920s – became a best-seller. As well, Antheil continued to compose for the concert stage, completing several symphonies, a violin concerto and other works in the 1940s.
This second Chandos album of his symphonic output by the BBC Philharmonic and its chief guest conductor, John Storgårds, delights listeners with outstanding performances of two of those symphonies plus three shorter orchestral works. Symphony No.3 "American" (completed 1946) is cinematic in its conservative harmonic language and highly episodic block treatment of themes. In parts, an Aaron Copland-esque American populism is jump-cut with syncopated jazzy sections and a marked stylistic eclecticism: Antheil leans strongly on the musical legacies of Sibelius, Mahler and Prokofiev. The work concludes with a triumphalist finale.
Symphony No.6 (completed 1949-50) is overall a more sombre and artistically ambitious work. The influences of Shostakovich, and in parts Ives, permeate Antheil's patriotic portrait of American life in music in a manner both touching in its heart-on-sleeve Romantic lyricism, and evocative of the vernacular regionalisms and dynamism of post-war USA.