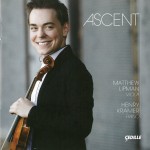 Ascent is the first solo album by the 26-year-old American violist Matthew Lipman, and also marks his debut on the Cedille Records label (CDR 90000 184 cedillerecords.org). He is accompanied by his regular duo partner, American pianist Henry Kramer. The creative process behind the CD started when Lipman asked American composer Clarice Assad to write a fantasy piece for viola and piano in memory of his mother. Lipman chose the Ascent title to describe the album's music and "the upward movement that happens throughout life and after."
The opening track is the Phantasy for Viola and Piano Op.54 from 1914 by the English composer York Bowen. It's a simply gorgeous work which perfectly showcases the warmth, lightness and agility of Lipman's playing as well as the top-notch contribution from Kramer. The standard never drops throughout the world premiere recording of Assad's two-part Metamorfose or Robert Schumann's four Märchenbilder Op.113.
Fuga libre by the Irish violist and composer Garth Knox is the only solo viola work on the CD. Written in 2008 for the Tokyo International Viola Competition, it uses some really interesting effects, including quite fascinating harmonic glissandi.
Shostakovich's very brief (at 1:56) Impromptu for Viola and Piano Op.33, written in 1931 but not discovered until 2017, is another world premiere recording, Lipman having managed to obtain a pre-publication transcript of the score from the DSCH Publishing House. A viola arrangement of Franz Waxman's virtuosic Carmen Fantasie brings an outstanding CD to a close, Lipman's flawless technique, beautiful tone and consummate musicianship making for viola playing as fine as any you will hear.
It's difficult to think of a more exciting duo than violinist Alina Ibragimova and her long-time pianist partner Cédric Tiberghien. Their 3-CD live recital set of the complete Beethoven violin sonatas contained some electrifying performances, and they bring the same level of playing to their latest CD, Vierne & Franck: Violin Sonatas, a recital of works that pay homage in their own ways to 19th-century musical thinking, their fairly dense textures and serious nature being qualities that would be rejected in post-WWI Paris (Hyperion CDA68204 hyperion-records.co.uk).
The Poème élégiaque Op.12 by Eugène Ysaÿe opens the CD – and what an opening it is! Published in the piano version in 1893 and the first of Ysaÿe's nine Poèmes for string instruments and orchestra, it was inspired by the death and funeral scenes from Shakespeare's Romeo and Juliet and employs scordatura tuning for darker colour, the low G string being tuned down to F. It's a rhapsodic, passionate work that perfectly showcases this duo's strengths: tone, nuance, intelligence, passion, commitment, and flawless technical assurance.
César Franck's Violin Sonata in A Major was written in 1886 as a wedding present for Ysaÿe; it's been popular for so long that hearing it again is like revisiting an old and treasured friend, and the visit here is a truly lovely one. The connections between the works on the disc continue with Louis Vierne's outstanding Violin Sonata in G Minor Op.23. Vierne was a pupil of Franck, and this sonata was written at Ysaÿe's request and premiered by him in 1908. It's a sweeping work much in the style of the Franck, and deserves to be much better known.
The brief Nocturne from 1911 by the 18-year-old Lili Boulanger, Nadia's younger sister, acts as a light dessert after the richness that has preceded it, and ends a CD of music-making of the highest order.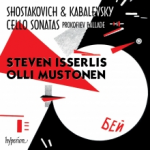 Whenever there's another CD from the always wonderful Steven Isserlis in the new releases, you just know you're in for something special, and so it proves yet again with Shostakovich & Kabalevsky Cello Sonatas, Isserlis being joined by his recital partner of over 30 years, pianist Olli Mustonen (Hyperion CDA68239 hyperion-records.co.uk).
The Shostakovich Sonata in D Minor Op.40, written in 1934 when the composer was in his late 20s, sets the tone for the whole CD, Isserlis displaying his usual full-blooded and passionate, yet always sensitive and musically intelligent playing, especially in the opening movement and the fiendish and demonic second. Mustonen is his equal in every respect.
Prokofiev's Ballade in C Major Op.15 is an early work from 1912 when the composer was only 21; it is essentially in two halves, Prokofiev referring to it as "similar in form to a sonata in two movements."
There's no doubting the strength and quality of Kabalevsky's Sonata in B-flat major Op.71, written for Rostropovich in 1962. Isserlis notes that this is a work that should really be heard more often, and his performance here makes an even stronger case.
Three short works round out the CD. Shostakovich's brief (at 2:31) Moderato was only published in 1986 after being discovered in a Moscow archive alongside the manuscript of the Cello Sonata. It's believed to be from the same period, but its real provenance remains unknown. Prokofiev's Adagio – Cinderella and the Prince is a 1944 arrangement of a section from his ballet Cinderella. Kabalevsky's Rondo in memory of Prokofiev Op.79 was the third of three test-piece Rondos he wrote for the Tchaikovsky Competition in Moscow – one for piano in 1958, one for violin in 1962 and this one in 1965. It's quite substantial, with more than a hint of Prokofiev's music, especially the wispy "wind-in-the-graveyard" effect from the first violin sonata.
In his usual outstanding booklet notes Isserlis includes his customary exact timing references to salient points in the works, adding an extra touch of class to a simply outstanding CD.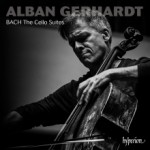 In his introductory booklet notes to Bach: The Cello Suites (Hyperion CDA68261 hyperion-records.co.uk) the German cellist Alban Gerhardt reveals that, like so many others, he was reluctant to even try recording these challenging works before turning 50 – which he does this coming May. He is also aware that any recording can never be a final word.
For some time Gerhardt studied Baroque performance practice, but felt his attempts to assimilate historically informed techniques didn't work for him, his playing sounding "neither authentic nor musically very interesting. I came to realize that just turning off the vibrato and using a sound which barely touched the surface of the string actually had very little to do with historical performance and didn't sit well with me as a musician."
He consequently uses vibrato "with great care and control" and aims for "a seemingly effortless articulation with as much depth to the sound as possible." Add Gerhardt's 1710 Matteo Gofriller cello and the results are simply beautiful. It's a set that easily holds its own in a very competitive field.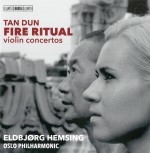 With the BIS Super Audio CD Tan Dun: Fire Ritual – Violin Concertos we enter the distinctive sound world of the Chinese composer Tan Dun, now in his early 60s. The Norwegian violinist Eldbjørg Hemsing has been collaborating with the composer since 2010, a relationship which resulted in the creation of both of the works on the CD: the violin concertos Rhapsody and Fantasia and Fire Ritual. Tan Dun conducts the Oslo Philharmonic Orchestra (BIS-2406 bis.se).
An early version of the Rhapsody and Fantasia was originally written over a decade ago, but the work is heard here in the 2018 revision for Hemsing. The two movements, each of three parts, have their roots in ancient Peking opera melody, Tan Dun having been a conductor of a travelling Peking Opera troupe in his teens.
Fire Ritual was written for Hemsing and premiered by her in Oslo in September 2018. Subtitled A music ritual for the Victims of War, it unfolds from – and stays centred on – the single note D, using its status as "Re" on the solfège scale as a prefix meaning "again," as in the Renewal, Resurrection, Return and Rebirth of souls who were lost in wars.
Both concertos have a similar sound, with little Western melodic (or harmonic, for that matter) material, prominent percussion sections (four players with at least 20 mainly Chinese percussion instruments) and a distinctly Chinese flavour to the solo violin writing. Hemsing is outstanding in what must be considered definitive performances.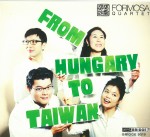 Formed in 2002 for a concert tour of Taiwan, the Formosa Quartet celebrates its members' Taiwanese heritage on From Hungary to Taiwan, a project that pairs treatments of folk music from the two countries and explores their similarities (Bridge Records 9519 bridgerecords.com).
Dana Wilson's Hungarian Folk Songs was commissioned by the quartet as "a sort of entrée" into Béla Bartók's quartets. Wilson says that he tried to capture key aspects of the traditional music itself and not just write his own music inspired by it, and he certainly succeeded. The Formosa Quartet perfectly captures his remarkable folk music effects and nuances.
In Song Recollections, another work written for the group, Chinese composer Lei Liang studies Taiwan's art, songs and people. His settings of five songs from four native tribes are mostly quiet and atmospheric, with a distinctly Chinese feel.
Béla Bartók's String Quartet No.4 from 1928, constructed as a five-movement symmetrical arch with the Night Music slow movement at its heart, is the major work on the CD.
Another Formosa Quartet commission, Wei-Chieh Lin's Four Taiwanese Folk Songs from 2017 ends the disc. These clearly popular and much-loved melodies, two of them written in the 1930s, are given lush, Romantic treatment, and draw rich, warm and evocative playing from the quartet.
A bonus track, Spring Breeze, is available only through an online link; it turns out to be the first of Five – not Four – Taiwanese Folk Songs, so its omission from the CD is a bit odd. Still, it's a gorgeous piece, and you can watch the quartet performing the complete set on YouTube. It's well worth watching, and well worth a listen.
The Juilliard String Quartet has been around since 1946, and although founding first violinist Robert Mann lasted for an astonishing 51 years and two subsequent members for over 40 years each, the ensemble has had a total of 17 members during its existence. The 2017 lineup (first violin Joseph Lin left in 2018) is featured on Juilliard String Quartet: Beethoven, Davidovsky, Bartók, a CD recorded as part of the group's 70th anniversary celebrations (Sony Classical 19075 88454 2 sonymusicmasterworks.com).
The quartet's longstanding commitment to both the classic repertoire and new contemporary works is fully evident here. A suitably tense and energetic performance of Beethoven's String Quartet in F Minor Op.95 "Serioso" opens the disc, and the centrepiece is Mario Davidovsky's Fragments, String Quartet No.6 from 2016, written on a commission for the Juilliard. Davidovsky explains that the title refers to broken and scattered parts that, "moved and processed by some creative force, can aggregate to become something." It certainly gives you a good idea of what the quite brief work sounds like as it moves from a fairly abrasive start to a more integrated ending.
A passionate and powerful performance of Bartók's String Quartet No.1 ends the CD. It's a work with a distinct post-Romantic feel, and no hint of the Night Music of the later quartets – more an indication of where the composer has come from than where he is going.
The playing throughout is of the exceptionally high standard we have come to expect from this ensemble.