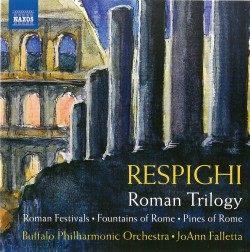 Respighi – Roman Trilogy
Buffalo Philharmonic Orchestra; JoAnn Falletta
Naxos 8.574013 (naxos.com)
I have never forgotten as a child first hearing The Fountains of Rome at a concert conducted by a short, wiry and agile Italian, Francesco Molinari-Pradelli, who made me fall in love with the piece instantly. Over the years I found that the Fountains is by far the best of the trilogy, Pines a close second and Festivals a distant third, but generally recordings tended to establish a certain routine interpretation and sound that became an expected norm.
However, this brilliant new recording by JoAnn Falletta, who now emerges as a star conductor and favourite of Naxos, will surprise you. She is American, original and unorthodox, and picks Festivals to play first (!), turning it into a monumental sound spectacle and making the most of Respighi's adventurous harmonies and orchestration. Just listen to Circenses where the music is so graphic as it describes vividly ferocious lions devouring Christian martyrs and Ottobrata with its sweet mandolin solo and far away horn calls evoking my beloved countryside around Rome.
The disc gives us surprise after delightful surprise as Falletta, revelling in the rich score, brings out voices I have never heard before. Like a gorgeous sound painting of night on the Gianicolo Hill with the noble silhouettes of pines and a nightingale singing. She is so totally engrossed that the music simply doesn't want to end. But where she really strikes home is Pines of the Via Appia, a tremendous tour de force depicting an ancient Roman army emerging from distant haze marching towards us, and the music just builds and builds. A gradual crescendo exploding in glorious fortississimo without ever becoming bombastic or overpowering. Brava!