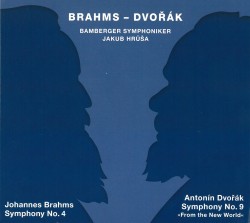 Brahms – Symphony No.4; Dvořák - Symphony No.9
Bamberger Symphoniker; Jakub Hrůša
Tudor Recording AGSACD 1744 (naxosdirect.com)
As I learned from the informative liner notes contained within this highly enjoyable and beautifully captured double CD – containing, what is no doubt, some of the finest and certainly best loved music of Johannes Brahms and Antonin Dvořák – both men, at different junctures in their lives, performed the role of torchbearer for one another. Dvořák, literally, was torchbearer at the funeral of the more senior Brahms, who had famously encouraged, mentored and recommended to publishers the compositions of Dvořák, who was then living and composing in Prague, anxious to be heard and appreciated on a more international level. Brahms, more famously, was stylistic torchbearer for a future generation of composers that include Dvořák, all whom found inspiration in the late German composer's broad Romantic themes and melodic beauty.
The relationship between the two men is programmed here, with two of their most famous symphonies (Brahms's Symphony No.4 and Dvořák's Symphony No.9), presented under the masterful direction of Czech conductor Jakub Hrůša, working with the dynamic German Bamberg Symphony Orchestra. In addition to the shared appreciation that the composers had for one another, these two symphonies share key, aesthetic beauty and a grandness of gesture that Hrůša and orchestra develop fully, while simultaneously teasing out the subtle differences and exploring the individual intricacies of these two masterworks, which represent the last symphonies of the two composers.
The CD is bold in its programming and beautiful in its presentation of these popular symphonic works, offering another important telling and capture of these compositions for lovers of bold Western art music.