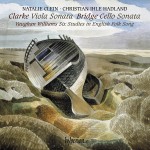 English cellist Natalie Clein and Norwegian pianist Christian Ihle Hadland are quite superb on a new CD of Sonatas by Rebecca Clarke and Frank Bridge (Hyperion CDA68253; hyperion-records.co.uk/dc.asp?dc=D_CDA68253).
Clarke's Viola Sonata – here in the alternate cello version – is a sweeping, passionate work completed in 1919, and seems to benefit from the added depth the cello brings. And what inspired playing it draws from Clein! Bridge's two-movement Cello Sonata in D Minor is also from the Great War period. Begun in 1913, it was finished in 1917, the second movement reflecting the darker times and the composer's deep dismay at the course of world events. Three brief pre-war pieces precede the sonata: the Serenade (1903); Spring Song (1912); and the Scherzo (1901-03) that was rediscovered in 1970.
Besides the obvious English connection there is another link with Ralph Vaughan Williams here, his Six Studies in English Folk Song having been written in 1926 for cellist May Mukle, Rebecca Clarke's longtime chamber music partner. They provide a lovely end to an outstanding disc.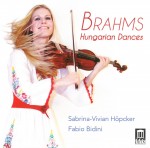 The German violinist Sabrina-Vivian Höpcker is the brilliant soloist in Brahms Hungarian Dances, a recital of all 21 pieces originally written for piano four hands and heard here in the arrangements by Joseph Joachim; Fabio Bidini is a perfect collaborator (Delos DE 3558; delosmusic.com/recording/brahms-hungarian-dances).
Only a few of the dances were actually written by Brahms, the remainder being a mixture of contemporary Hungarian Roma compositions, some of which were probably settings of traditional tunes. Höpcker's playing of these technically demanding pieces has everything you could possibly wish for: stunning technique; faultless intonation; great dynamics; passion; energy; style; and a tone that is brilliant in the upper register and deep and warm in the lower. Bidini knows the original piano settings well, and it shows.
There are some familiar old favourites here, but all are gems. There's never a dull moment in an outstanding disc.
The Indianapolis Commissions 1982-2014 is a fascinating CD issued for the tenth Quadrennial International Violin Competition of Indianapolis (IVCI) in 2018, and presents all nine specially commissioned works written through the 2014 competition (Azica Records ACD-71321; naxosdirect.com/items/the-indianapolis-commissions-468596).
Violinist Jinjoo Cho, the Gold Prize Winner in the 2014 IVCI, is quite stunning in a wide range of pieces that include three – by Joan Tower, Leon Kirchner and Ellen Taaffe Zwilich – for solo violin. Pianist Hyun Soo Kim supplies first-rate collaboration in works by Richard Danielpour, George Rochberg, Bright Sheng (the particularly dazzling A Night at the Chinese Opera), Joonas Kokkonen, Witold Lutosławski and Ned Rorem. One gets the impression that Cho could probably have won every one of the other eight competitions as well.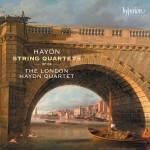 There's another 2CD volume available in the outstanding ongoing series of Haydn String Quartets by The London Haydn Quartet, this time the Six Quartets Op.64 from the London Forster edition (Hyperion CDA68221; hyperion-records.co.uk/dc.asp?dc=D_CDA68221).
The previous six volumes over the past 11 years have garnered rave reviews, and rightly so. These are period instrument performances simply bursting with life and energy, and with faultless intonation on gut strings – no easy feat. Hyperion's two-CDs-for-the-price-of-one deal makes these terrific issues even more of a bargain.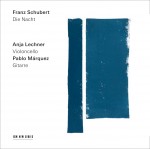 Cellist Anja Lechner and guitarist Pablo Márquez team up on Die Nacht, a recital of works by Schubert and his contemporary Friedrich Burgmüller (ECM New Series 2555; ecmrecords.com/catalogue/1534923762).
A lovely performance of Schubert's Arpeggione Sonata is the centrepiece of the disc, surrounded by five Schubert songs interspersed with Burgmüller's Trois Nocturnes for cello and guitar. Songs with guitar accompaniment were a strong tradition in 19th-century Vienna, many of Schubert's being published in guitar versions. The songs here are Nacht und Träume D827, Fischerweise D881, Meeres Stille D216, Der Leiermann from Die Winterreise and the Romanze from Rosamunde, the last two in transcriptions by the artists. A rich cello sound and warm guitar tone add greatly to a simply lovely CD.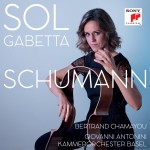 Schumann is the latest CD from cellist Sol Gabetta and features three works for cello and piano with her long-time collaborator Bertrand Chamayou and the Cello Concerto in A Minor Op.129 with the Kammerorchester Basel under Giovanni Antonini (Sony Classical 88985352272; sonyclassical.de/sonyclassical_neu/CD/88985352272.html).
The works with piano are 5 Pieces in Folk Style Op.102, the Adagio and Allegro Op.70 (originally for horn and piano), and the Fantasiestücke Op.73 (originally for clarinet and piano), Schumann allowing that the latter two could be played "also on melody instrument."
Gabetta has a deep strong tone but never lacks warmth and subtlety. She has performed with and known the members of the Basel orchestra for many years, and the comfort level is apparent in a warm and engaging performance.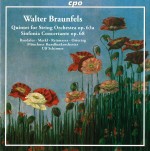 I don't recall receiving any CDs of the music of German composer Walter Braunfels (1882-1954) before, which made his Works for String Orchestra performed by the Münchner Rundfunkorchester under Ulf Schirmer all the more interesting (cpo 777 579-2; naxosdirect.com/items/braunfels-string-quintet-op.-63-sinfonia-concertante-op.-68-459907).
Both works here are relatively late compositions from the mid-1940s. The Quintet for String Orchestra Op.63a is a setting of Braunfels' Op.63 String Quintet by his student, the conductor and musicologist Frithjof Haas. It's a fine work with a particularly lovely Adagio movement, although one gets the feeling that some of the intimacy of the original is lost in the bigger sound.
The Sinfonia Concertante Op.68 for Violin, Viola, 2 Horns and String Orchestra is a shorter but more substantial and impressive work. Described in the notes as "more modern and radical" it is decidedly in the German Romantic tradition with a strong post-Mahlerian and Straussian feel to it, the prominence of the solo violin in particular giving the work more the feel of a concerto.
The excellent recordings were made in 2007 and 2009, presumably for radio broadcast.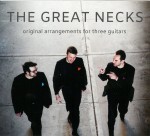 The Great Necks – original arrangements for three guitars is the excellent debut CD from the guitar trio of Scott Borg, Adam Levin and Matthew Rohde (thegreatnecks.com/shop).
Borg is the arranger for the first four offerings: Sibelius' Finlandia, the three-fold heavy strumming making for a rather thick texture; four unrelated individual movements by J. S. Bach; Villa-Lobos' Chóros No.5 "alma brasileira"; and Albeniz's Asturias. Rohde joins him in transcribing four brief preludes from Scriabin's Op.11 keyboard set, but is solely responsible for, by far the most effective track on the disc, an engrossing arrangement of the hypnotic Danzón No.2 by Arturo Márquez.
Recorded in Toronto and engineered by the always reliable guitarist Drew Henderson, the sound is clear and resonant.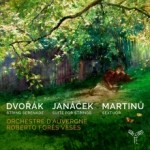 The Orchestre d'Auvergne under Roberto Fores Veses performs string works by Dvořák, Janáček and Martinů on a new CD described as "a testimony to the Czech musical soul over a period of more than a century." (Aparté AP 195D; apartemusic.com/discography/dvorak-janacek-martinu).
Dvořák's Serenade in E Major Op.22 from 1875 is heard here in its complete version, the composer's cuts and corrections from 1879 reinstated. Janáček's Suite for String Orchestra was written in 1877, a year in which the composer spent the summer walking in Bohemia with Dvořák. The latter's influence is apparent in a delightful work. Martinů's String Sextet dates from 1932, and is heard here in the string orchestra arrangement made by the composer in 1951.
Performances full of warmth of works that all came from happy periods in the composers' lives make for a highly satisfying disc.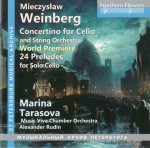 Two rarely performed works by the Polish/Russian composer Mieczysław Weinberg are presented on Weinberg – Concertino, 24 Preludes, with the Russian cellist Marina Tarasova and the Music Viva Chamber Orchestra under Alexander Rudin in the Northern Flowers St. Petersburg Musical Archive series (NF/PMA 99131; altocd.com/northernflowers/nfpma99131/).
The Concertino for Violoncello and String Orchestra Op.43 was written in 1948; never played, it became the basis for the Cello Concerto with the same opus number, and was not discovered until 2016. It's a lovely if brief work – the four movements are each under five minutes long – with a strong Jewish klezmer influence and more than a hint of Weinberg's close friend Shostakovich. This is its premiere studio recording.
Weinberg's 24 Preludes for Cello Solo were written for Rostropovich in 1960 but never performed by him. In 1979 the composer presented the score, inscribed with his compliments, to the young Marina Tarasova, although again they remained unplayed for nearly four decades. Wide-ranging in style and quoting from Schumann, Mozart and Shostakovich as well as his own works and popular song, they draw outstanding playing from Tarasova.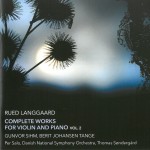 The Danish composer Rued Langgaard never gained acceptance in his home country during his lifetime, his rejection of his contemporary Carl Nielsen's modernist path assuring him of a life in the musical backwaters. The last 50 years, however, have seen a reassessment and major change of opinion.
Complete Works for Violin and Piano Vol.2 is the second of three planned CDs of Langgaard's compositions in the genre, with outstanding performances by violinist Gunvor Sihm and pianist Berit Johansen Tange (Dacapo 8.226131; naxosdirect.com/items/langgaard-complete-works-for-violin-piano-vol.-2-469744). Sihm is a member of the Nightingale String Quartet, which released an outstanding 3CD set of Langgaard's complete string quartets between 2012 and 2015.
The Sonata No.1 "Viole" is a large work from 1915, the first and third movements being thoroughly revised by the composer in 1945. It's a sweeping, passionate work, its changing moods brilliantly captured by the performers. The Andante Religioso, Langgaard's final work for violin and piano following a burst of activity in the genre in the late 1940s, is a short work from 1950.
The final work here, the Søndagssonate (Sunday Sonata) for violin, piano, organ and orchestra is accurately described in the notes as "bizarre and unpredictable." It was originally three separate compositions: the Sunday Sonata for violin and piano (movements 1 and 2); the Marble Church Prelude for organ (movement 3); and the Small Grand Symphony for orchestra with organ (movement 4 – and small indeed, at 2'47"). Organist Per Salo and the Danish National Symphony Orchestra under Thomas Søndergård are the additional performers in a world premiere recording of a unique work not heard until 2016.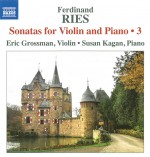 Violinist Eric Grossman and pianist Susan Kagan are the performers in the third volume of Ferdinand Ries Sonatas for Violin and Piano (Naxos 8.573862; naxosdirect.com/items/ries-sonatas-for-violin-piano-vol.-3-466993).
Ries was an exact contemporary and close friend of Beethoven, both composers having studied with Ries' father Franz. The three sonatas here – in E-flat Major Op.18 from 1810, in G Minor Op.38 No.3 from 1811 and D Major Op.83 from 1818 – are clearly a continuation of the Viennese style developed by Mozart, but are closer to Beethoven in sound. They are delightful and charming works though, and the performances, balance and recorded sound here are all first class.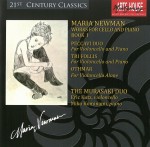 Works for Cello and Piano Book 1 is a CD of music by the American composer Maria Newman with the Murasaki Duo of cellist Eric Kutz and pianist Miko Kominami (Montgomery Arts House Press MAHMR 1205209; store.cdbaby.com/cd/marianewmanandwendyproberandpi).
The two excellent three-movement works, Peccavi Duo and Tri Follis were commissioned for these performers, but the real gem here is Othmar, An Eccentric Tone Poem for Violoncello Alone based on characters by the 19th-century English author and suffragette Mary De Morgan, whose fairy-tale stories often featured women noted for their personal – as opposed to physical – qualities. Kutz is simply outstanding in a quite dazzling and virtuosic work.