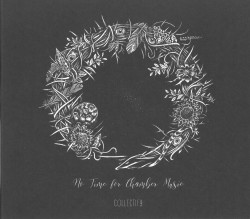 No Time for Chamber Music
collectif9
Independent (collectif9.ca)
The title of this disc by collectif9, one of the most exciting string contemporary ensembles today, comes by way of that musical omnivore, Luciano Berio, whose Sinfonia uses texts from Le cru et le cuit (The Raw and the Cooked) by the French anthropologist Claude Lévi-Strauss. The sardonic cue from the title is given sharper angularity with the interpretation of Mahler's profound music, which almost always expressed the composer's innermost thoughts. These peremptory readings of Mahler's portentous music are gaunt and shard-like.
Together with the oblique Fantaisie à la manière de Callot by Phillipe Hersant, contrabassist Thibault Bertin-Maghit's imaginative arrangements create a new excitement around Mahler, a composer who received due recognition after many decades of proselytizing by conductors such as Bruno Walter, Wilhelm Mengelberg and later, Leonard Bernstein.
Although what we have here are vignettes of symphonies from Mahler, collectif9 has masterfully recreated the composer's sound-world infusing much into the music. These suggest – even conjure – every Mahler-like spectacle from Marche funèbre from Symphony No.5 to the vast images of nature especially in Comme un bruit de la nature from Symphony No.1. There is also the extraordinary lyricism of Lieder eines fahrenden Gesellen that unfolds in J'ai un couteau à la lame brûlante and the eloquently wistful performance of L'adieu from Das Lied von der Erde. All of this repertoire by collectif9 is highly charged and intensely dynamic, making for a uniquely impactful disc.