Violoncelle Français
Cheng² Duo
Audite 97.6987
Violonchelo del Fuego
Cheng² Duo
Audite 97.7366
(audite.de/en/ensemble/127-cheng_duo_duo)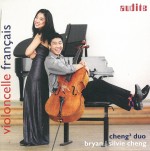 Having heard the best of the best during more than 60 years of frequent concertgoing, I'm not easily impressed, but four years ago, when I first heard the Cheng² (Cheng Squared) Duo, I was thrilled by their prodigious virtuosity and impassioned expressivity. Cellist Bryan Cheng was then all of 16, pianist Silvie Cheng in her early 20s. I was thrilled again this past August when the brother-and-sister pair from Ottawa performed at the Toronto Summer Music Festival. Bryan combines a dark, robust tone with jaw-dropping bravura, while Silvie creates an extraordinarily varied palette of keyboard colours that enhance her imaginative, nuanced phrasing. Together, they offer remarkably fresh approaches to familiar music, making their first two CDs so very special.
The major works on Violoncelle Français, the Cello Sonatas of Claude Debussy and César Franck, are performed with unusual extremes of moody introspection and rhapsodic abandon. I'd grown tired of hearing the Franck, whether in the original version for violin or Jules Delsart's cello transcription, but the Duo's revelatory re-invention of this much-performed work, with myriad subtleties of tempo, dynamics, phrasing and tonal colour, surprised and delighted me.
The CD also includes five encore-style selections, Saint-Saëns's Allegro Appasssionato and The Swan, and three well-loved pieces by Gabriel Fauré that receive especially loving treatments – Pablo Casals' arrangement of the song Après un Rêve and two works originally for cello and piano, Élégie and Sicilienne, both subsequently orchestrated by Fauré.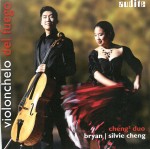 More encore pieces, arrangements of familiar music by Spanish composers Granados, Albéniz, Sarasate and de Falla, appear on Violonchelo del Fuego. Bryan says: "Arrangements open up a whole new world of possibilities, and you'll hear that at times I will strum like a guitar or Silvie's playing will imitate castanets." "Playing" is the appropriate word for their playful, exuberant approach to this music.
Brian and Silvie add expressive embellishments to Maurice Gendron's transcription of de Falla's Siete canciones populares españolas, reflecting their desire to convey the meanings of the songs' words. Bryan has also arranged the second song of the cycle, Seguidilla murciana, omitted from most instrumental arrangements, including Gendron's. He says: "A lot of the idiosyncrasies in articulation, vibrato and colour are based on the vocal originals of these songs. It was my goal to really make the cello sing and speak as a dramatic singer would." The results are truly exhilarating!
This wonderful CD also affords Bryan and Silvie the chance to shine as individuals, in Gaspar Cassadó's virtuosic Suite for solo cello and Joaquín Turina's evocative Exaltación for piano. Though only in their 20s, both Bryan and Silvie are already world-class, performing separately and together at major international venues and festivals. I can't – and won't – stop raving about them.