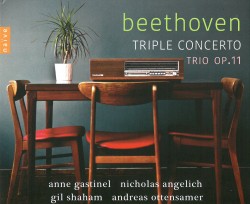 Beethoven – Triple Concerto; Trio Op.11
Anne Gastinel; Nicholas Angelich; Gil Shaham; Andreas Ottensamer; Frankfurt Radio Symphony; Paavo Järvi
Naïve V 5418
Like a stepchild, Beethoven's Triple Concerto in C Major from his middle period (Op.56) is much underrated and seldom played – but it is in fact the most difficult and challenging of all Beethoven's concertos. One of the reasons is that there are three soloists working almost independently and it is very difficult to find a balanced sound, yet they are still very much a team, like soldiers in a battle. My perennial favourite has been the Karajan on EMI (Oistrakh, Rostropovich, Richter), one of the great recordings of the last century, but this new issue with a stellar team of soloists and up-to-date sound on the French Naïve label is a worthy successor.
In the long and arduous first movement the cello is the real hero. French cellist Anne Gastinel leads all the charges, introducing all the new themes that are always different and very beautiful. Gil Shaham is one the world's best violinists today and he is the star in the heavenly Largo. The Finale, in Tempo alla Polacca, is delightful and intensely rhythmical in 3/4 time, where conductor Paavo Järvi is full of good humour and jollity (a bit unlike his world-famous but rather austere father Neeme Järvi). The piano part here serves as a connective tissue rather than a leader, but blends in gracefully as played by Nicholas Angelich, the third soloist.
Rounding out the CD, a delicious early Clarinet Trio (Op.11) interestingly includes Andreas Ottensamer, principal clarinet of the Berlin Philharmonic, and that's no mean credit.