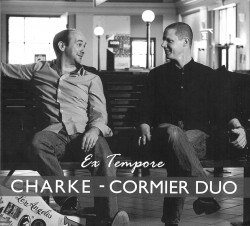 Ex Tempore
Charke - Cormier Duo
Leaf Music LM220 (leaf-music.ca)
Flutist Derek Charke and guitarist Eugene Cormier perform with intelligence and passion in their debut release. Both teach at Acadia University, and are well respected Maritime musical personalities. Here they play, produce, engineer and master terrific, clear, stylistically diverse music.
The track Ex Tempore, composed by Charke, is a composed/improvised work for bass flute and guitar that lives up to its title. Note-bending during lengthy dramatic extended-technique bass flute phrases is heard against the guitar-driven rhythm and tonality, all in a spontaneous yet controlled direction, until the final satisfying guitar tone fades. Turning back the clock, Cormier's arrangement of four Scarlatti harpsichord sonatas allows the duo's tight ensemble playing to shine especially in the slow, true-to-Baroque quality, Sonata in F Major, K296, L198. Likewise the Presto of the Sonata in F Major K445, L385 features melodic interchanges between the instruments and well-placed lower guitar detached notes. Cormier arranges Peter Maxwell Davies' 1980 Farewell to Stromness into a straightforward Scottish folk music-tinged piece with Celtic subtleties.
Nesyba's arrangement makes for a sensitive performance of Debussy's piano classic La fille aux cheveux de lin, while Mosoczi's take on Handel's four-movement Sonata in A Minor HMV 362, Op.1, No. 4 showcases detached note effects. Machado's Musiques populaires brésiliennes are six 1980s works for flute and guitar based on traditional Brazilian music encompassing toe-tapping, happy sounds.
This is a fabulous debut!