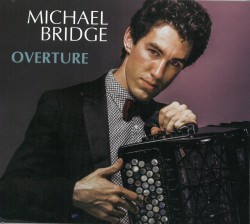 Overture
Michael Bridge
Independent MB2001 (michaelbridgemusic.com)
Canadian accordionist Michael Bridge triumphs technically and musically in all styles in his debut solo album, a recent CBC Album of the Week.
Bridge plays two different accordions, a Pigini Nova acoustic free bass, and a Roland digital instrument. His acoustic accordion features single tones on the left hand, allowing for wide pitch range/combination possibilities. Both Makkonen's original Tango-Toccata and Friedrich Lips' transcription of Khachaturian's Tokkata are virtuosic accordion repertoire mainstays. Their tricky technical and dynamic challenges are performed with ease. Bridge's composition Intoxicating features upbeat, tango-flavoured dance qualities. All the other tracks are Bridge arrangements. A solid contrapuntal feel, balance of lines, precise ornamentation and steady rhythms make his transcription of Bach's French Suite No.5 a contemplative listen. Avetisyan's Tzaghgatz Baleni is a lush dramatic tune with the same mood transcending into Cohen's widely covered Hallelujah, as an interesting low-pitched start soars higher for more grounded accordion vocalizations. Mancini's Moon River drifts from simple line statement to flourishes, left-hand chords and a rubato feel fitting to Bridge's personal take.
Listeners unfamiliar with the Roland's synthesizer abilities will be shocked to hear how close to the original full symphonic sound one accordion played by one performer in one take is in Tchaikovsky's 1812 Overture, the more laid-back jazz band drums and bass in Garner's Misty, and the brief self-explanatory Orchestral Tuning.
As an accordionist myself, what I really appreciate and admire in Bridge's playing is his conviction, tenacity and dedication in all he plays. Bravo!