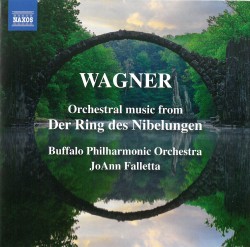 Wagner – Orchestral music from Der Ring des Nibelungen
Buffalo Philharmonic Orchestra; JoAnn Falletta
Naxos 8.573839 (naxos.com)
Apart from having a great sense of theatre, Wagner was also a tremendous orchestrator, much of it self-taught. He increased the size of the orchestra, invented new instruments (e.g. Wagner tuba), and like Debussy later, created a new sound, new orchestral colours, and had definite ideas as to the placement of the orchestra in relation to the stage. He was also the first one who thought of turning off the lights in the auditorium during performance. Naturally the orchestra became an integral part of his music dramas and much of his orchestral music can be independently played at concerts.
The Ring has ample scope for this, collected now on a single CD by Naxos with the Buffalo Philharmonic and their current music director, JoAnn Falletta. It's primary purpose most likely is to show off the virtuosity of this fine ensemble and its conductor and perhaps give an introduction to the uninitiated at a low price. The excerpts evoke some of the great scenes, like the Entry of the Gods into Valhalla over a rainbow bridge or the Ride of the Valkyries where you can hear the shrieks of laughter of the warrior maidens and the neighing of the horses, or the wondrous Magic Fire Music with its shimmering curtain of sound. We can even hear the waves of the mighty Rhine carrying Siegfried to his eventual doom.
Given the enormous popularity of the Ring today and dozens of new video versions, this modest CD is a good reminder of the timeless musical beauties that might escape the hurried wayfarers of our digital, plug-in world.