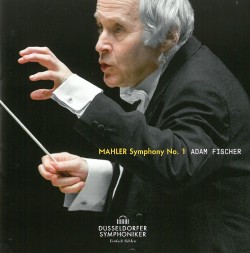 Mahler – Symphony No.1
Düsseldorfer Symphoniker; Ádám Fischer
Avi-Music 8553390 (avi-music.de)
It started innocently enough. Our stalwart editor kindly brought me this Mahler disc conducted by a fellow named Fischer. I presumed his first name was Iván, well known for the excellence of his Mahler recordings with his Budapest Festival Orchestra; but what was he doing in Düsseldorf? Well, I was (not so) sadly mistaken; Iván has an elder brother, named Ádám, who has been the music director of the venerable Düsseldorf orchestra since 2015. And what of the Düsseldorf ensemble? Established 200 years ago, it was led in its early days by the likes of Mendelssohn and Schumann. Though their symphonic profile is unfortunately overshadowed these days by their onerous commitments to the local opera house, they are an aristocratic ensemble of outstanding sensitivity that deserves a far greater international reputation.
In fact, I was so impressed by the excellence of this recording of Mahler's fledgling symphony I eagerly sought out and strongly recommend their earlier volumes of this ongoing cycle as well, which Fischer boldly launched in 2015 with the most under-appreciated of Mahler's symphonies, the sphinx-like Seventh. I was floored by that 2015 performance, which is amongst the finest I have ever heard. From start to finish Fischer never loses sight of the connecting threads of this highly sectional work, expertly driving it to a triumphal conclusion. I was reminded of an incident in 1976 when I was astonished to witness a high school band sauntering down Bloor Street during the annual Christmas parade, blasting away the principal theme of the finale of this work. Mahler himself would have been delighted to have witnessed that event; his time had indeed come! That's exactly how joyously the conclusion of this work reaches its spirited apotheosis.
The subsequent volume featuring the Fourth Symphony is equally fine, a beautifully sculpted sonic landscape imbued with the effervescent spirit of Haydn, over which passing clouds of mock menace occasionally appear. No detail is overlooked and the performance is full of personality with a chamber-music-like delicacy. It rivals my sentimental favourite performance by George Szell.
The recordings in this ongoing cycle are edits of live performances captured by German Radio. The sound is excellent and the audience is undetectable, though at times the lower frequencies seem slightly indistinct (notably in the First Symphony), likely due to the unusual spherical design of the Düsseldorf Tonhalle, a repurposed, massive planetarium constructed in 1926. Fischer himself contributes his own provocative thoughts in the program notes.
A fourth volume devoted to the Fifth Symphony was released in March. Digital downloads are available at avi-music.de. This series promises to rank among the most compelling of Mahler cycles in a very crowded field.