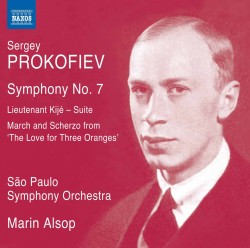 Prokofiev – Symphony No.7; Orchestral works
Sao Paulo Symphony Orchestra, Marin Alsop
Naxos 8.573620 (naxos.com)
Sergei Prokofiev made a disastrous decision in 1936 to return to his homeland, the Soviet Union. Already a much celebrated composer and pianist in the West, he was hoping the Stalinist repression and terror wouldn't apply to him like it did to Shostakovich, who kept a packed suitcase by his bedside to be ready when the KGB showed up. It didn't, but Prokofiev's creative genius was much curtailed and, plagued with ill health, financial and marriage problems, he was driven to an early death in 1953 (a day I remember), a few hours before Stalin died.
The Seventh Symphony that stems from this period shows no sign of the lessening of his talents, although it was aimed at pleasing the regime. What makes it so beautiful is his melodic gifts par excellence combined with tremendous skill in counterpoint, with countermelodies going in the opposite direction in the lower registers against the main subjects in the upper strings. The effect is remarkably original, and made transparent here by Marin Alsop. She recorded the entire set of Prokofiev's symphonies with the Sao Paulo Symphony Orchestra, with which she seems to have special affinity. Alsop takes a relaxed approach, somewhat slower than expected, revelling in the lyricism and beauties of the score, but gathers momentum in the last movement with an inimitable, energetic yet graceful style that I had the good fortune to witness when I last saw her with the TSO.
In addition, there are two excerpts from the opera Love for Three Oranges, with the Scherzo delightfully driven in good humour and devil-may-care abandon, and the Lieutenant Kije Suite, where Alsop conjures up a monumental brass fanfare from pianississimo in steady crescendo to a formidable fortississimo, a remarkable feat by the Sao Paulo brass and Naxos engineers.