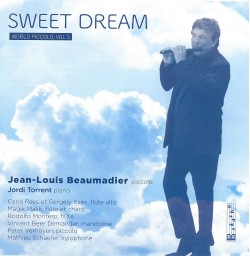 Sweet Dream
Jean-Louis Beaumadier
Skarbo DSK4165 (piccolo-beaumadier.com)
How much repertoire is out there for the piccolo player? Through extensive discoveries, adaptations and commissioning, Jean-Louis Beaumadier continues to amaze us with the breadth of musical possibilities that his oft-maligned little flute possesses. Sweet Dream, the most recent addition to his fine collection of nearly 20 recordings devoted entirely to the piccolo, offers fresh new works rendered with the captivating artistry we have come to expect from this musician whom Jean-Pierre Rampal once dubbed "the Paganini of the Piccolo."
In Guarnieri's Estudo, Guiot's Sweet Project, and Damase's For Piccolo, Beaumadier's continuing partnership with pianist Jordi Torrent is the source of outstanding rhythmic precision, impeccable intonation and synchronicity of nuance. In particular, the jazzy, technical wizardry of Mike Mower's Sonata is executed with effortlessly cool nonchalance. Carla Rees with her Kingma quarter-tone alto flute joins them in Véronique Poltz's four expressive and inventive miniatures, Midnight with Pan. Although employing flutter-tongue, whole-tone and quarter-tone passages, this music is engagingly accessible; movement three, Sweet Dream, exudes utter serenity.
The controlled beauty of Beaumadier's pianissimo is featured in Flint Juventino Beppe's A Piccolo Poem. William Bardwell's gamelan-inspired gem, Little Serenade, uses the percussive textures of the mandolin and xylophone to contrast and support some very lyrical piccolo playing. Rounding out the disc are Gordon Jacob's Introduction and Fugue for piccolo, flute and alto flute, Magalif's infectiously cheerful piccolo duet Tarantella and the improvisatory-like duet, Naomi for piccolo and flute with voice, by Magic Malik (Malik Mezzadri).
This CD is highly recommended for both the piccolo aficionados and its skeptics!