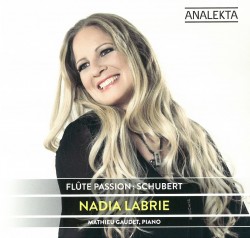 Flute Passion: Schubert
Nadia Labrie; Mathieu Gaudet
Analekta AN 2 8787 (analekta.com)
Flutist Nadia Labrie and pianist Mathieu Gaudet's all-Schubert CD begins with a transcription of the intensely and ominously dramatic Arpeggione Sonata. The quiet simplicity and dignity of Gaudet's solo opening of the first movement is carried forward by Labrie's velvet sound, exquisite phrasing and moments of rubato, which convey a brooding feeling of inevitably encroaching doom. She plays the hymn-like second movement with a simplicity and directness which is both heartrending and deeply satisfying.
The second part of the program consists of lieder transcriptions, mostly from Die Schöne Müllerin. There are some wonderful moments in these eight miniature masterpieces, most notably the meshing of the artists' vision in the counterpoint of Ständchen (from Schwanengesang). However, there is also the unfortunate intrusion at times of that "flutistic" mannerism of changing tone colour in the middle of a note for no good reason and the missed opportunity to use contrasting colours for the two characters in Der Müller und der Bach.
The third and final component is the Introduction and Variations on Trockne Blumen, composed for flute and piano by Schubert himself. While both artists are brilliant here, the poignant darkness of the song ("...the flowers...she gave me...shall be laid with me in the grave.") could have been more effectively brought to life by greater contrast in tempo and a less dance-like interpretation of the melody. Nevertheless, this CD has a lot going for it. Gaudet and Labrie are both virtuosos who work well together. I'm sure we will hear more from them.