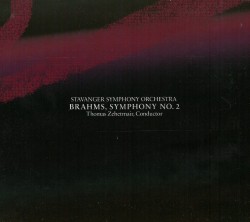 Brahms – Symphony No.2
Stavanger Symphony Orchestra; Thomas Zehetmair
SSO Recordings 3816-2 (www.sso.no)
This disc arrived in a simple but elegant package, but without any program notes or promo blurb, save basic info and credits. Listening to it, however, with an open mind and ear, it made me fall in love with the piece all over again and made me wonder how this very familiar work could have been played to death in concerts so much that once a friend said to me at intermission:" Janos, do you really expect me to sit through another Brahms Second?!" and left.
Sometimes dubbed the Pastoral, in sunny D Major, this most congenial of Brahms' four symphonies is found here in the hands of Thomas Zehetmair. A noted Austrian concert-violinist-turned-conductor, Zehetmair's background becomes immediately apparent in the delicately handled, caressing string tone right at the beginning of the symphony when the main theme first insinuates itself, and in how lovingly and expressively he handles the strings throughout the symphony. But he is also a gifted conductor with great musical insight, imagination and intuition, plus an ability to get into the composer's mind, making sure that everything written down is heard. I was discovering passages I haven't heard before or hearing them differently, like the flute playing merrily over the famous string tune second subject in the first movement. We rediscover Brahms' masterly skill at counterpoint that came from his years of studying Bach. And experience the thrill of that magisterial fourth movement as it simply explodes from mysterious, whispering strings and is driven joyfully to a triumphant ending.
The Stavenger Symphony of Norway is a dedicated group of superb instrumentalists who have an intuitive chemistry with their conductor. Previously they recorded on the Swedish BIS label famous for its demonstration quality sound, but with this stellar CD they launched their own SSO Recordings and we wish them continued success.