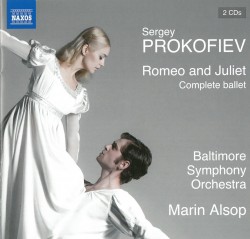 Prokofiev – Romeo and Juliet
Baltimore Symphony Orchestra; Marin Alsop
Naxos 8.573534-35 (naxos.com)
The Soviet composer Sergei Prokofiev's ambitious and beautiful ballet Romeo and Juliet continues to be loved by audiences the world over, not only for its musical beauty and scope of ambition, but for the universality of its original narrative theme, taken from William Shakespeare's play of the same name. Love – unrequited, tragic, desired, mutual, romantic – is a topic that clearly has not been exhausted by the creative commentators among us, and audiences seem to have an unquenchable thirst for works that tackle this subject.
Naxos Records is a Hong Kong-based company that, while championing digital distribution, continues to release high quality classical music in physical form, somehow managing to stave off the demise of physical product that has so impacted most other record labels. And good for us. This 2018 CD release of an October 2015 performance in the acoustically rich Meyerhoff Hall captures the very fine Baltimore Symphony under the direction and leadership of conductor Marin Alsop. Having led the Symphony since 2007, and recently given a contract extension until 2021, Alsop is a dynamic conductor whose intentional and forceful style once again brings out an exhilarating and striking performance from this ensemble.
The highlights from Prokofiev's original ballet are many and the world most certainly has enough piecemeal assemblages of these greatest hits. With this recording, however, we have another fine complete capture of this most beautiful work that successfully balances the effervescent and playful bounce of dance with the drama, passion and ultimately Act IV darkness of Shakespeare's original text. Recommended.