There are two Beethoven string quartet issues this month, featuring works from both ends of the canon.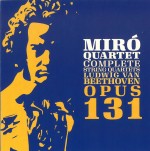 The Miró Quartet, now in its 24th year and with two original members still playing, gives an excellent performance of the remarkable String Quartet No.14 in C-sharp Minor, Op.131, part of its ongoing series of the complete cycle (Miró Quartet Media MQM 2909 2 miroquartet.com). It's a deeply satisfying recording, but in an extremely competitive field not necessarily one which challenges your perceptions of the music or forces you to re-evaluate them.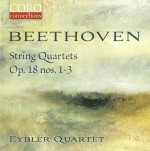 That, however, is exactly what Toronto's Eybler Quartet does with its simply stunning CD of Beethoven's first efforts in the genre, the String Quartets Op.18 Nos.1-3, on instruments appropriate to the period (Coro Connections COR16164 eyblerquartet.com).
In his perceptive booklet essay violist Patrick Jordan notes that the Eybler's emphasis on pre-Beethoven repertoire meant that they approached the early Beethoven quartets as "new music," with the aim of re-learning how to play them to Beethoven's exact specifications. This entailed not only sorting out issues with the various sources but also – and most importantly – deciding to adhere to Beethoven's tempo markings, which at times are excessively fast or slow and have long been the subject of animated discussion, though rarely followed.
The results, particularly with the faster movements, are quite astonishing, from the brisk opening of the F Major Op.18 No.1 through to the dazzling Presto finale of the D Major Op.18 No.3. Technical virtuosity doesn't begin to do justice to the playing here – there's jaw-dropping agility, clarity and accuracy in the playing, allied with terrific dynamics and nuance, outstanding ensemble work, a lovely warm tone with a judicial use of vibrato and an unerring sense of period style.
I doubt if you've heard these works sound like this before – it's absolutely essential listening. Volume 2 with Op.18 Nos.4-6 is apparently in preparation. I can hardly wait!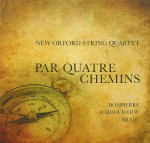 Fast forward 210 years or so and there's Canadian string quartet music from the 21st century on Par quatre chemins, the latest CD from the New Orford String Quartet (ATMA Classique ACD2 2740 atmaclassique.com).
The CD takes its title from the five-movement work by François Dompierre that opens the disc. It's a really attractive and strongly tonal work with decided dance influences. Commissioned by the Orford Arts Centre, it was premiered by these performers in 2015.
The other two works on the CD were both commissioned by the New Orford quartet. Airat Ichmouratov wrote his String Quartet No.4 Op.35, "Time and Fate" in 2012, following the sudden death of his close friend Eleanor Turovsky, the first violinist of I Musici de Montréal. Again, it's an extremely attractive four-movement work with a particularly lovely third movement.
Tim Brady's Journal (String Quartet No.2) was written in 2013, 33 years after Brady's previous work in the genre. Inspired simply by "the opportunity to write music for such amazing players," it has seven sections played without pause, the composer likening this to turning pages in a diary or journal. It's a tougher work than the other two, with a cinematic feel to the music at times, but is another very strong and extremely well-written composition.
The NOSQ's playing throughout is exemplary in what can be viewed as definitive performances.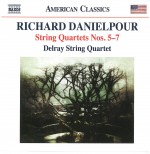 There's also American string quartet music from the current century on Richard Danielpour String Quartets Nos.5-7, performed by the Delray String Quartet in the Naxos American Classics Series (8.559845 naxos.com). The second violinist in the group is Tomás Costik, whose Piazzolla and Mozart solo CDs were recently reviewed here.
String Quartet No.5, "In Search of La vita nuova" (2004) deals with the composer's longstanding relationship with Italy. String Quartet No.6, "Addio" (2009) deals with the string quartet as a metaphor for family, and how families are eventually broken apart through distance, time and loss. Both works were written in Northern Italy, and are about what Danielpour calls "letting go."
String Quartet No.7, "Psalms of Solace" (2014) is about a "search for the Divine." The last movement features a soprano part written specifically for Hila Plitman, the excellent soloist here.
All three works are very much in a late-20th-century style, strongly tonal and very accessible, and with some truly beautiful writing and lovely textures.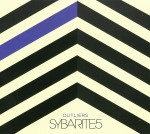 The American string quintet Sybarite5 was formed in 2006, since when it has commissioned, premiered and promoted over 60 new works. Its new CD Outliers (Bright Shiny Things BSTC-0121 sybarite5.org) debuted at No.1 in the Billboard Traditional Classical Album charts in February.
There was no booklet with the digi-pak we received and no information on any of the composers or the 13 works, virtually all from the period 2012 to 2015 and all quite short; the brief information on the cover says that "each track has been carefully selected to demonstrate a decade of musical growth and the relationships developed between Sybarite5 and these accomplished American composers."
Those represented here are: Jessica Meyer; Shawn Conley; Eric Byers; Dan Visconti; Andy Akiho; Mohammed Fairouz; Kenji Bunch; Daniel Bernard Roumain; Michi Wiancko; and Lev "Ljova" Zhurbin. It's a fascinating selection of solid and appealing compositions with nothing too challenging aurally.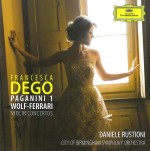 The Italian violinist Francesca Dego signed with Deutsche Grammophon in 2012, and following her debut albums of the Paganini Caprices and the complete Beethoven Violin Sonatas the label has released her first orchestral CD, Paganini/Wolf-Ferrari Violin Concertos with the City of Birmingham Symphony Orchestra conducted by Dego's husband Daniele Rustioni (DG 4816381). It's quite outstanding.
If you're going to play Paganini's Concerto No.1 in D Major Op.6 then you need not only impeccable technique so that the sheer difficulty is never the focus of the performance but also musical sensitivity and intelligence to make any criticisms about empty virtuosity redundant. Dego has all these qualities in abundance and is clearly well aware of the operatic vocal nature of the music; Paganini was a close friend of Rossini, and his concertos make much more sense when heard with the contemporary Italian opera style in mind.
The Violin Concerto in D Major Op.26 of Ermanno Wolf-Ferrari is little known and seldom performed. It's a late work, completed in 1944 a few years before the composer's death and written for the American violinist Guila Bustabo, who revised a subsequent edition after the original copies were destroyed in an Allied bombing raid. Dego correctly likens it to "an Italian opera for violin" – albeit opera from an earlier period than Wolf-Ferrari's – in which respect it shares much with the Paganini. A long but very attractive four-movement work, it has much to recommend it.
Dego is absolutely superb in both works, but particularly in the lengthy first movement of the Paganini; Rustioni draws excellent support from the CBSO. The Wolf-Ferrari was recorded live in Birmingham in March 2017 at its UK premiere, the lengthy applause well deserved.
Contemporary American composers are featured on two new CDs.
The husband-and-wife team of violinist Nicholas DiEugenio and pianist Mimi Solomon are the performers on Into the Silence, a tribute to the late Steven Stucky (who taught at Cornell University in Ithaca, NY from 1980 to 2014) and the three generations of composers associated with Cornell (New Focus Recordings FCR 188 newfocusrecordings.com).
Stucky's 2013 Sonata for Violin and Piano is surrounded by works by two of his students: 2013's . . . in dulcet tones, by Jesse Jones; and 2014's Plush Earth in Four Pieces by Tonia Ko. Stucky himself studied at Cornell with Robert Palmer, who founded the doctoral composition program and taught there from 1943 until 1980. Palmer's excellent Sonata for Violin and Piano from 1956 closes the CD.
The Ithaca "sound" is described as "a blend of east coast modernism with neo-romantic and neo-classical sensibilities, with a rich sense of colour," an accurate description of these premiere recordings.
DiEugenio and Solomon were Ithaca neighbours of Stucky, who introduced them to Palmer's music and supported this project prior to his death in 2016.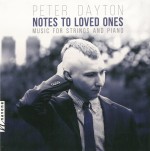 Notes to Loved Ones features music for strings and piano by Peter Dayton (Navona Records NV6143 navonarecords.com).
The brief but lovely Fantasy for Viola and Piano is followed by Morceaux des Noces for String Quartet, another work with a quite beautiful sound.
The Sonata "Los Dedicatorias" for Violin and Piano reflects Dayton's relationship with the art and family of Peruvian painter Fernando de Szyszlo. Variations for String Quartet, a tougher and darker work, resulted from an exchange program with the Royal Academy of Music in London, the virtuosic violin cadenza inspired by the program leader, violinist Peter Sheppard-Skærved.
An abrasive and edgy two-movement Sonata for Violoncello and Piano (the second movement marked "Stark, Percussive") ends an interesting and promising Navona debut CD.
Yang Guo (viola), Sarah Jane Thomas (violin), Lavena Johanson (cello) and Michael Sheppard (piano) are the soloists.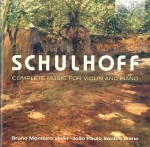 For some reason, three CDs received this month are way past their initial release date. Two of them are from the Brilliant Classics label (brilliantclassics.com), both Complete Works for Violin and Piano – one by the Polish composer Karol Szymanowski (2 CDs 94979) and the other by his contemporary, the Czech composer Erwin Schulhoff, who died in a concentration camp in 1942 at the age of 48 (95324). The performers on both are the Portuguese duo of violinist Bruno Monteiro and pianist João Paulo Santos.
Critical opinion of Monteiro's playing was mixed when the Schulhoff CD was released in 2016, with opinions ranging from praising his golden tone and interpretations to Gramophone magazine's noting his "effortful and sometimes insecure" playing. Personal taste probably played a large part: Monteiro's often slow and wide vibrato does tend to make the intonation sound suspect at times, and his tone in the highest register can sometimes sound tight and thin. There are moments in the Sonata for Solo Violin when his playing seems a bit tentative. Still, there is much to enjoy here. In particular, the piano playing in the Suite and the Sonatas Nos. 1 & 2 is outstanding, with a rich, resonant sound and an excellent balance with the violin.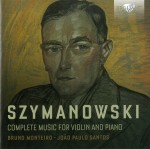 The Szymanowski set fares much better, especially CD2 with Mythes Op.30 opening the disc and the Nocturne and Tarantella Op.28 providing a strong finish. The Sonata in D Minor Op.9, the Romance in D Major, the Three Capriccios of Paganini Op.40 and the lullaby La Berceuse Op.52 are the other original works in the set, with the remaining five tracks either transcriptions by the composer's compatriot, the violinist Pawel Kochanski, or – in two cases – joint compositions by them.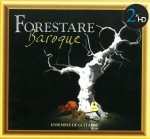 The third latecomer is Forestare Baroque, a program of works by Bach, Vivaldi and Jean Baptiste Lully arranged for guitar ensemble and performed by the Montreal group Forestare with their 12 guitars, two contrabasses and – in the Lully – percussion (2xHDFO1043 forestare.com).
The works are Bach's Brandenburg Concerto No.3 and Fantasia on Komm, heiliger Geist, Vivaldi's Sonata Op.1 No.12, "La Folia" and the Concerto for Two Violins and Cello Op.3 No.2, and Lully's suite Le Bourgeois gentilhomme. The Vivaldi concerto was arranged by the Swiss guitarist Jürg Kindle, the other works by Forestare's music director Dave Pilon and guitarist David Ratelle.
Recorded in l'Église St-Augustin in Mirabel, the sound is full and warm throughout a thoroughly enjoyable disc.