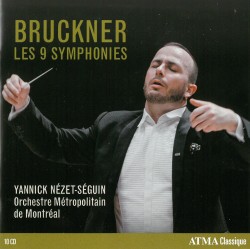 Bruckner – Les 9 Symphonies
Orchestre Metropolitain; Yannick Nézet-Séguin
ATMA ACD2 2451 (atmaclassique.com)
This box of ten CDs comprising Les 9 Symphonies sports a gold trim that gives it a rather deluxe look and manages to fit quite a bit of detail in its Spartan-looking 24-page booklet. Significantly, for an Anton Bruckner box, it lists the version and premiere details, which are critical as Bruckner was known to be a sort of serial reviser of his symphonic work. For dyed-in-the-wool fans – and aficionados of classical music – version is, indeed, everything and would explain idiosyncrasies of the opuses performed. Important also is to note that these magnificent versions are an enormous decade-long quest by Yannick Nézet-Séguin and Orchestre Métropolitain de Montréal to put down on record the complete symphonic work of a composer as consumed by spirituality as he was by a seemingly obsessive compulsion to refine, time and again, what he had written.
The booklet notes may not explain why certain Bruckner versions of these symphonies were chosen above others and one might question – as Bruckner is said to have – Franz Schalk's 1894 version of Symphony No. 5 in B-flat Major WAB 105, which is reported to have 15 to 20 minutes of music cut from it (the composer certainly disagreed with the cuts). Still, what seems to have motivated Nézet-Séguin is certainly the mission to capture the depth of Bruckner's mysticism and joyful recreation of the composer's "cathedrals of sound." This would also explain why Symphony No.7 in E Minor WAB 107 is a version premiered by the legendary Arthur Nikisch and why Symphony No.1 in C Minor WAB 101 is taken from Hans Richter's version premiered on December 13, 1891 (which is what Bruckner seems to have approved for performance on May 9, 1868).
If the determination to capture Bruckner at his most intense was the driving force behind Nézet-Séguin's quest to complete his Bruckner cycle then he has certainly succeeded beyond belief and this box is comprehensive proof. It bears mention that at various points in time completed recordings of the symphonies have been released and reviews of Nos. 2 to 4 and 6 to 9 have also been featured within these pages, which leaves us with Nos.1 and 5. Symphony No. 1 in C Minor establishes many of Bruckner's most distinctive characteristics, from the sense of scale to the organ-like washes of orchestral sound and the construction of long expanses from short repeated phrases. The electrifying performance with the leonine power of the Orchestre Métropolitain de Montréal in full throttle is shaped with fantastic conviction by Nézet-Séguin. His speeds are sometimes quite leisurely, but this only increases the symphony's sense of scale and magnitude. This "Vienna Version" is a terrific achievement.
The Symphony No.5 in B-flat Major is the first of Bruckner's mature symphonies to survive in a single version and was his most monumental, being both longer and more finely worked out than its predecessors. It has a sense of solemnity not found in earlier symphonies, with a dramatic sense of conflict generated by the suggestion that passion is always being kept in check. What's especially impressive about Nézet-Séguin's performance is the way momentum is always maintained, even in the tricky last movement, where he sails through the unmannered eloquence and power that are the hallmarks of this great performance from the beginning. The devotional, awestruck intensity of the final movement is effectively captured in this recording. Indeed this and the other performances in this box almost certainly comprise the defining recordings of Nézet-Séguin's career.