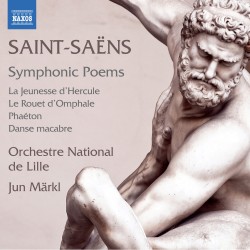 Saint-Saëns – Symphonic Poems
Lille National Orchestra; Jun Märkl
Naxos 8.573745
There is a wonderful part in middle of the tone poem Phaéton: as the audacious but foolish young man dares to take Apollo's chariot for a forbidden ride, with urgent, syncopated rhythms the horses swing into action, the chariot begins to rise upwards and suddenly vistas open up in heavenly radiance – all this depicted in glorious music. Phaéton gleefully revels in it, but his joy is short-lived. There is a brutal ending to his offending the god.
This and many more delights are in store for us, like Hercules' punishment of having to spin wool dressed as a woman, in probably the finest of Saint-Saëns' tone poems and a favourite of Sir Thomas Beecham, Le Rouet d'Omphale: here, a delightful rondo imitates the spinning of the spool, but in the midst of all this a powerful roaring melody emerges towards a shattering fortissimo climax. This is no joke anymore. This is Hercules!
Invented by Liszt and a product of Romanticism, the symphonic poem was happily brought to France by Saint-Saëns, who applied to it his considerable gifts of "melody and form" and "impeccable craftsmanship," not to mention his vivid imagination and love of Greek mythology. All of this is coupled by Naxos' choice of a lesser-known but excellent, dedicated orchestra and the young, imaginative and talented conductor Jun Märkl, breathing new life into these pieces.
With state-of-the-art spacious sound, the brilliant and colourful orchestral palette shines through and the disc has already become Presto's Editor's Choice for December 2017.