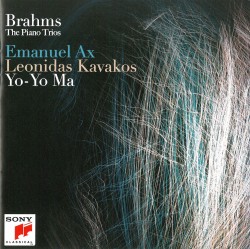 Brahms - The Piano Trios
Emanuel Ax; Leonidas Kavakos; Yo-Yo Ma
Sony Classical 88985 40729 2
The Piano Trios form a critical, if less well-known feature of Brahms' creativity within the world of chamber music. To an extent, Brahms picked up the torch at the point at which Beethoven had laid it down, but although he used Beethoven's music, along with that of Schubert, as a point of departure, these trios are highly singular creations, with a sound world that is altogether unique. Each of the three instruments is stretched to its limits as if Brahms wanted to create orchestral depth and colour using just three players.
Another fascinating aspect of The Piano Trios – particularly in Piano Trio No. 3 in C Minor Op.101 – is Brahms' treatment of the string players as soloists, giving both the violin and cello some sonorous passages that are ideally suited to their respective characteristics. Also noteworthy is the fact that Brahms' wealth of powerfully sculpted ideas amply rewards attentive listening.
These performances of The Piano Trios by Emanuel Ax, Leonidas Kavakos and Yo-Yo Ma are without question the most authoritative and distinguished accounts of the works. Ax, Kavakos and Ma play with unique breadth of insight and a feeling of spontaneous inspiration, a quality that comes all too infrequently to studio recordings like these. The Sony recorded sound is at once brilliant and truthful, but it also has exceptional spaciousness.