Review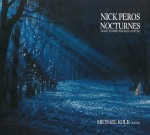 The outstanding Michael Kolk is the soloist in the world premiere recording of Nocturnes: 24 Nocturnes for Solo Guitar by the Canadian composer Nick Peros (DeoSonic Music DSM54536 nickperos.com). Peros has written numerous other solo works for classical guitar, including five Suites and a Sonata, and is clearly someone who knows and understands the instrument's potential for tone and colour.
The short pieces here are predominantly quiet, slow and pensive – they are nocturnes, after all – 16 of them with subtitles like relaxed; atmospheric, mysterious; reflective; as a dream; with mystery and longing; peaceful, gentle. Only two are noted as with fire and passion. They appear to be centred on traditional major and minor keys, predominantly the open guitar strings of E, A and D, but it's never that simple – there is actually a good deal of tonal ambiguity here, and an abundance of rich chromatic expression.
They are well-crafted, attractive and quite beguiling pieces, with the occasional faster numbers in particular much in the style of the standard 19th- and 20th-century guitar etudes. The final two Nocturnes in particular are really lovely.
One thing is certain: they couldn't possibly have a better interpreter than Michael Kolk, whose playing, as always, is of the highest musical standard – technically faultless, with a clear, clean and resonant sound, and a complete absence of left-hand finger noise. The CD was produced by the composer, and it's difficult to view these beautiful performances as anything other than definitive.
Although violinist Jacques Israelievitch was diagnosed with advanced lung cancer part of the way through the recording of the complete Mozart violin sonatas with Christina Petrowska Quilico, the duo did manage to complete the project before he passed away in September 2015.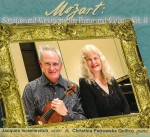 Mozart: Sonatas and Variations for Piano and Violin Vol. II is the second release in the series (Fleur de Son Classics FDS 58040 fleurdeson.com), and features three of the sonatas from the group known as the Auernhammer set – the Sonatas No.24 in F Major K376, No.25 in F Major K377 and No.27 in G Major K379 – together with the Sonata No.33 in E flat Major K481.
When reviewing Volume I in June of last year I noted that these works are perfectly suited to Israelievitch's distinctive style and sound, which was always warm, gentle and sensitive; it should go without saying that Petrowska Quilico's playing is the perfect complement. Again, it's obvious that the two are of one mind in their performances here.
It's another volume in what will clearly be a series to treasure, and one that continues to be a wonderful tribute not only to a greatly missed and much-loved violinist but also to his companion at the keyboard.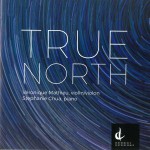 True North is a new CD on the Canadian Music Centre Centrediscs label featuring the Canadian duo of violinist Véronique Mathieu and pianist Stephanie Chua (CMCCD 24417 musiccentre.ca).
Given the CMC's outstanding promotion of contemporary Canadian composers and the booklet description of Mathieu as "an avid contemporary music performer" it's no surprise to see that five of the six works are from the period 1996 to 2016; what perhaps is a surprise is the inclusion of Healey Willan's Sonata No.1 in E Minor, which opens the disc. Written a hundred years earlier than the latest works on the CD (although revised in 1955) it is a solid work, firmly in the early 1900s tradition, which sounds decidedly anachronistic in this setting. Still, its appearance is welcome.
Gradual Erasures by the Toronto composer Adam Scime was written for the duo in 2016 and dedicated to them. Its two movements were inspired by the poem Water Island by Howard Moss, which was in turn prompted by the accidental drowning death of a friend.
Brian Harman's Cherry Beach for violin, piano and field recordings from 2016 explores connections between music, the environment and the body by combining the musical material with the sounds of running footsteps and waves, all recorded on the shores of Lake Ontario in Toronto.
Maria Molinari's Danza is a short piece from her 1997 Tre Pezzi per Violino e Pianoforte. Heather Schmidt's Adagio from 1996 and Alice Ping Yee Ho's Éxtasis from 2012 complete a very interesting disc.
Mathieu has a sweet, delicate sound with a fairly slow vibrato and a tone that tends to sound a bit thin on occasion, but the contemporary technical and musical challenges as well as the Willan sonata are handled faultlessly. And let's not forget the pianist, too often overlooked in duo recitals: Chua is terrific as well.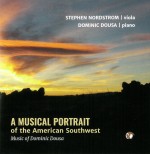 It would be difficult to imagine a recital CD more in contrast to True North than A Musical Portrait of the American Southwest, featuring works for viola and piano by the American composer Dominic Dousa with violist Stephen Nordstrom and the composer at the piano (Blue Griffin Recording BGR 429 bluegriffin.com).
Dousa has been on the faculty of the University of Texas at El Paso Department of Music since 2004, and has been fascinated by the landscapes of the Texas Panhandle and eastern New Mexico since moving to the region from his native Minnesota. The works on this CD evoke the spirit of this land.
Reflections on a Desert Winter is a five-movement suite inspired by travels in the desert lands of southern New Mexico in the winter of 2014/15; with titles like On the Spirit Path, Desert Glow and The Rugged Pioneer Trail it puts one in mind of the works of Ferde Grofé. Musically they're along those lines as well: completely and unashamedly tonal; full of constantly flowing melody; and beautifully crafted, with excellent piano writing.
Mountain Song, inspired by a day in the Rocky Mountains near Denver, is in much the same mould. The Sonata for Viola and Piano, "From a Land Wild and Free" was mostly composed in 2008, but the initial ideas and themes were sketched as a result of the experience of that 2004 summer journey from Minnesota to El Paso.
Nordstrom plays with a fine tone across the full range of the instrument, and certainly has more than enough melodic writing in which to immerse himself. Dousa is a fine pianist as well as a fine composer. If I have one quibble it would just be that the music could possibly do with a bit more contrast and fire.
Dousa's own colour photographs of the Southwest landscapes complement the booklet.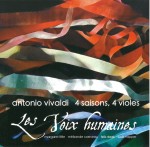 The Four Seasons concertos appear in yet another re-worked version in Antonio Vivaldi 4 saisons, 4 violes, featuring the Canadian viol ensemble Les Voix humaines – Margaret Little and Mélisande Corriveau on treble, Felix Deak on tenor and Susie Napper on bass (lesvoixhumaines.org). Founding members Little and Napper made the arrangements, Napper transcribing the Spring and Autumn and Little the Summer and Winter concertos.
The resulting performances are much more effective than you might possibly expect, with a really nice period performance feel to the concertos despite the lack of a clear solo violin line. What you won't be expecting is the interpolation of a short appropriate insert in each of the concertos – well, appropriate from a title viewpoint, that is, but not necessarily a musical one. The traditional En montant la rivière (with tenor Philippe Gagné) is inserted in Spring; Gershwin's Summertime (arranged by Jay Bernfeld) in Summer; Autumn Leaves (jazzed up with a pizzicato bass) in Autumn; and Petit berceuse du début de la colonie in Winter. Corriveau plays recorder in the Gershwin.
It's an interesting concept, but obviously raises questions: Are the additions enriching the concertos, or just an inappropriate distraction? Do these additions – especially within these specific arrangements – create new works, or do they merely compromise the original scores? And most important: Do they work? That will probably depend on your personal taste, and you may like to add a further question: Does it really matter? It does certainly make for interesting listening, and given that the movements are played without breaks, the inserts really don't stand out as much as you would imagine; they're integrated more than inserted.
The overall sound throughout the CD has a lovely resonance, with nice dynamics, superb definition from all four performers and a satisfyingly wide range – essentially that of a string quartet. The arrangements are extremely well done, and the playing throughout is really quite outstanding. All in all, a very interesting disc, and one that becomes more satisfying the more I listen to it.
Review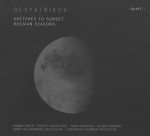 I don't recall ever hearing any music by the Russian composer Leonid Desyatnikov (b.1955) before, but I've clearly been missing out on some strikingly individual compositions. Two of his works – Sketches to Sunset and Russian Seasons – are featured on a new CD on which violinist Roman Mints is the primary artist (quartz QTZ 2122 quartzmusic.com).
Sketches to Sunset from 1992 is based on music written for the film Sunset, about the lives of Jews in pre-Revolution Odessa. Written for violin, piano and orchestra and consisting of nine short connected movements, it also features pianist Alexey Goribol and the Brno Philharmonic Orchestra under Philipp Chizhevsky. Mints is superb in this eclectic work that first introduced him to Desyatnikov's music some 20 years ago.
Russian Seasons for Voice, Violin and Strings from 2000 has a quite different feel. There are 12 movements, three for each season: Spring, Summer and Winter each have two instrumental tracks and one vocal; Autumn has one instrumental and two vocal tracks. Yana Ivanilova is the soprano in vocal sections that are strongly reminiscent of Stravinsky of Pribaoutki and Les Noces, with the orchestra this time being the Lithuanian Chamber Orchestra. It's difficult music to describe, but in his excellent booklet notes Mints says that "while the instrumental movements feature moments of joy and merriment, utter hopelessness dominates the five vocal movements, in which the composer addresses listeners directly in words." Shades of Shostakovich, indeed.
Both works were recorded under the supervision of the composer, with the Sketches to Sunset being a world premiere recording.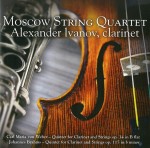 The Moscow String Quartet CD of the Clarinet Quintets of Weber and Brahms with the Russian clarinetist Alexander Ivanov is a bit of a mystery disc: apparently self-issued, there is no sign of any information regarding recording or copyright dates, and the CD does not appear on the ensemble's website (moscowquartet.com) or on any independent CD sales sites.
Still, if you can track it down, the performances are excellent. Ivanov plays with warmth, agility and fluency in the opening movement of the Weber Quintet in B-flat Major Op.34, and with great expression in the slow movement. There's more agility in the third movement Menuetto and some superlative clarinet playing in the final Rondo Allegro.
The string playing from the Moscow ensemble is in the rich Russian tradition with full vibrato, which clearly bodes well for the Brahms Quintet in B Minor Op.115. All the Brahmsian autumnal warmth you could want is fully in evidence, and Ivanov is again in top form.