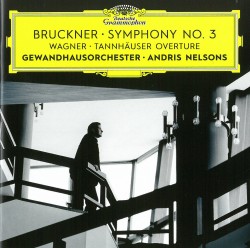 Bruckner – Symphony No.3; Wagner – Tannhäuser Overture
Gewandhausorchester Leipzig; Andris Nelsons
Deutsche Grammophon 479 7208
Anton Bruckner moved to Linz in 1856 to take up the position of organist at the Old Cathedral, Ignatiuskirche, rapidly establishing himself as one of Europe's greatest exponents of the instrument. Bruckner also took to studying theory and composition under Simon Sechter and later with Otto Kitzler. When the latter conducted a performance of Richard Wagner's Tannhäuser in Linz, Bruckner fell under Wagner's spell, melding the composer's passion for poetry and drama with the unbounded exaltation of his (Bruckner's) spirituality to deliver so much in the way of harmonic ingenuity, melodic sweep and sheer orchestral magnificence in his music.
Andris Nelsons delivers all of this grandeur in Bruckner's Symphony No. 3 in D Minor (WAB 103), paired with Wagner's Tannhäuser Overture. This live recording made with the legendary Gewandhausorchester Leipzig is the first in a proposed cycle of Bruckner symphonies. No.3 was unfinished when Bruckner took it to Wagner, who, in 1873, selected it as a dedication to him by Bruckner.
Under Nelsons' baton Bruckner's spiritualism and Wagnerian grandeur soar in music redolent of melodic and harmonic touches. It is a visceral and dynamic performance. Nelsons shows that he has developed a perfect bond between the orchestra's instrumentalists, enabling them to dig deep and bring to No.3 and the Tannhäuser Overture a sublime melodic beauty – conducting the structurally complex music with outstanding naturalness, a special charisma and dignity in a way that only a great Bruckner conductor can.