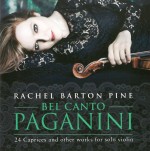 American violinist Rachel Barton Pine follows up her outstanding Testament issue of the complete Bach Solo Partitas & Sonatas with another wonderful 2CD set of solo violin works, this time Bel Canto Paganini: 24 Caprices and other Works for Solo Violin (Avie AV2374).
In her excellent booklet essay Pine quite rightly stresses the musicality of these remarkable pieces, and not just the technical aspects. Paganini was greatly admired by his operatic contemporaries, with Rossini, Verdi and Bellini all considering his compositions to be fully in the bel canto Italian vocal style, and Pine's interpretations always stress the melodic content. There's never a hint of anything but complete mastery of the technical issues either.
In addition to the 24 Caprices Op.1 three other Paganini solo works are here: the astonishing Introduction and Variations in G Major Op.38 on Paisiello's "Nel cor più non mi sento;" the brief Duo merveille Op.6 "Duet for One;" and the Caprice d'adieu Op.68. Pine's playing leaves you simply breathless.
Finally, in acknowledgement of Paganini's profound influence on her, Pine adds her own brilliant Introduction, Theme and Variations on "God Defend New Zealand" which she wrote in 2000 for the end of her first tour of New Zealand. If you didn't know, you would swear it was by Paganini. It's a dazzling end to a remarkable set.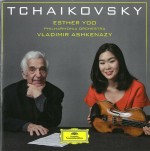 The outstanding American-Korean violinist Esther Yoo follows up her terrific debut Deutsche Grammophon CD of the Sibelius and Glazunov concertos with another outstanding collaboration with Vladimir Ashkenazy and the Philharmonia Orchestra on the same label, this time featuring works for violin and orchestra by Tchaikovsky (481 5032).
It should come as no surprise, given Ashkenazy's involvement, that all the performances here display a marked sensitivity and an innate empathy for the music. The Violin Concerto is the main work here, of course, and the measured, unhurried opening signals an approach that continues throughout the work, although there is never a lack of passion when needed.
The high performance standard is maintained throughout the remaining works on the disc. The two pieces from Swan Lake – the Pas de Deux from Act 1 and the Danse Russe from Act 3 – are both original violin solos from the ballet score, and not transcriptions or arrangements. The poignant Sérénade mélancolique in B flat Minor, Op.26 was the composer's first major work for violin and orchestra. The really lovely Valse-Scherzo Op.34 and the Glazunov orchestration of the Mélodie – the last of the three pieces that comprise Souvenir d'un lieu cher, Op.42 – complete another outstanding CD from these artists.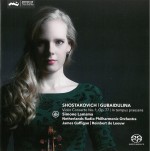 The Dutch violinist Simone Lamsma is the soloist on Shostakovich/Gubaidulina, her second CD on the Challenge Classics label and featuring the former's Violin Concerto No.1 in A Minor, Op.77 and the latter's In tempus praesens. The Netherlands Radio Philharmonic Orchestra is conducted by James Gaffigan in the Shostakovich and by Reinbert de Leeuw in the Gubaidulina (CC72681).
It's an impressive performance of the Shostakovich, a deeply personal work written a few years after the end of the Second World War but temporarily shelved when the composer was once again vilified by the Communist Party in 1948; it didn't receive its premiere until 1955. Lamsma is terrific throughout.
Sofia Gubaidulina's In tempus praesens is her second violin concerto, an extended single-movement work written for Anne-Sophie Mutter in 2007. A work of extreme contrasts that demands great virtuosity from the soloist, it is scored for a large orchestra that does not include first or second violins, giving the soloist unchallenged freedom in the higher string register. Lamsma handles every challenge quite superbly.
The Shostakovich is a studio recording from 2016, while the Gubaidulina was recorded live in concert at the Royal Concertgebouw, Amsterdam in October 2011. The Netherlands orchestra provides excellent support in both instances.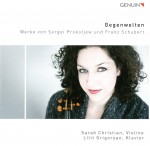 Gegenwelten (Contrasting Worlds) is the debut CD from the German violinist Sarah Christian, accompanied by the Armenian pianist Lilit Grigoryan in a recital of works by Prokofiev and Schubert (Genuin GEN 17472).
If 27 seems to be a rather late age for a debut CD then in this particular case it was certainly worth the wait; there is a clear and undeniable maturity to both Christian's playing and her interpretations of the Prokofiev Sonata No.1 in F Minor, Op.80 and the Schubert Fantasie in C Major, D934. The Prokofiev sonata has a dark, ominous opening movement, a strikingly strong second movement, an ethereal slow movement and a tense and desolate final Allegrissimo, all making for a memorable performance.
The Schubert Fantasie is ostensibly an extended single-movement work, but in fact consists of four loosely connected sections played without a break. Again, it's a beautifully balanced performance, with a finely nuanced opening that sets the tone for everything that follows.
Both players are in tremendous form here, and the recorded sound is outstanding. In the publicity blurb Christian says that "When playing, I really feel everything there is to feel." That doesn't always come through on a recording, but on this exemplary debut disc it most certainly does.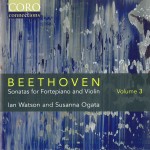 I didn't see the first two volumes of the ongoing cycle of the complete Beethoven Sonatas for Fortepiano and Violin on period instruments, featuring violinist Susanna Ogata and Ian Watson on the fortepiano, but Volume 3 (CORO Connections COR16154) of the four-CD series certainly makes me wish that I had.
The works here are the three sonatas published in 1803 as Opus 30: No.6 in A Major; No.7 in C Minor; and No.8 in G Major. The fortepiano obviously lacks the power of a modern grand piano but more than compensates for this with its range of tonal colour and acoustic variation. Ogata uses gut strings and a period bow, with the resulting warmer sound perfectly complementing the keyboard and creating a sound world imbued with what The Strad magazine, in its review of Volume 2, called "a clarity rarely achieved."
There are some outstanding sets of the complete sonatas available with modern keyboard – the Ibragimova/Tiberghien and Duo Concertante issues, for instance – but if you still harbour any doubts about the effectiveness of performing these sonatas with fortepiano then this CD series should simply blow them away.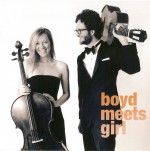 boyd meets girl sees the American cellist Laura Metcalf paired with her husband, the Australian guitarist Rupert Boyd, in a really terrific selection of pieces for cello and guitar (Sono Luminus DSL-92217).
The three-movement Reflexões No.6 by Bolivian composer Jaime Zenamon is a lovely work, full of rich and sonorous cello lines and some rapid guitar work, all beautifully handled by the duo. The Allegretto Comodo, the first movement of the Sonata for Cello and Guitar by the Brazilian composer Radamés Gnattali, is the only other work written specifically for cello and guitar; it's another terrific piece.
Apart from Ross Edwards' beautiful Arafura Arioso, arranged especially for the duo by the Australian composer, all the other tracks on the CD are arrangements by Boyd and Metcalf. Fauré's Pavane Op.50, four of Bach's Two-Part Inventions, Astor Piazzolla's Café 1930 (originally for flute and guitar) and de Falla's Siete Canciones Populares Españolas are all extremely effective in these arrangements, but none more so than the quite stunning and ethereal Spiegel im Spiegel by Arvo Pärt, played by Metcalf at the original violin pitch over Boyd's beautifully controlled guitar work. The final track is the duo's arrangement of Human Nature, the Steve Porcaro and John Bettis song from Michael Jackson's 1982 Thriller album.
A warm and resonant recorded sound quality complements a superb CD that is an absolute delight from beginning to end.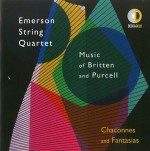 Given the affinities between Benjamin Britten and his predecessor Henry Purcell it comes as no surprise to see their music paired on Chaconnes and Fantasias – Music of Britten and Purcell, the latest CD from the Emerson String Quartet, celebrating its 40th anniversary (Decca Gold B0026509-02).
Purcell's Chacony in G Minor appeared in the same manuscript as the Fantazias (Purcell's spelling) and is played here in Britten's performing edition. It's a full-blooded performance, with quite heavy vibrato. The Fantazias Nos.6 in F Major, 8 in D Minor, 10 in E Minor and 11 in G Major are more idiomatic, with very little vibrato and the dissonant clashes clearly defined. In company with Britten's music they sound decidedly modern.
Sandwiched in the middle of the Fantazias is a terrific performance of Britten's String Quartet No.2 in C Major, Op.36 from 1945, the first performance of which took place in London on the exact 250th anniversary of Purcell's death. Moreover, the Chacony final movement is modelled on Purcell's own Chacony.
Another immensely satisfying performance, this time of Britten's String Quartet No.3 in G Major, Op.94, a fascinating and highly personal work written in late 1975 just a year before his death, completes an outstanding disc.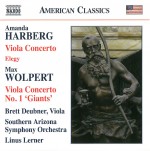 Premiere recordings of two very accessible 21st-century Viola Concertos by Amanda Harberg and Max Wolpert are featured on a new Naxos CD in their American Classics series, with the American violist Brett Deubner accompanied by the Southern Arizona Symphony Orchestra under Linus Lerner (8.559840).
Both works were written for Deubner, who has had more than 30 concertos dedicated to him. John Corigliano said of Amanda Harberg that she "writes truly beautiful music," and her Concerto from 2011/12 more than supports that view, with a soaring and strongly rhythmical first movement described as a meditation on flight, a simply beautiful Aria middle movement and an energetic and joyful finale.
Wolpert's Viola Concerto No.1, "Giants" reflects the composer's fascination with ancient musical traditions and fable and legend as well as his extensive work in musical theatre. The three movements are Father Time, The Golden Harp and the Balkan-flavoured Dance of the Cloud Women.
Also on the disc is Harberg's short Elegy from 2007, written for violin and piano and played here in the composer's excellent arrangement for viola and string orchestra.
Deubner is clearly in his element with these very attractive works.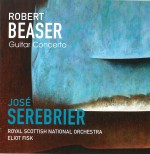 The American guitarist Eliot Fisk met the composer Robert Beaser in 1972 when they were both at Yale, and two of the works that resulted from their long friendship are featured on Robert Beaser Guitar Concerto, with José Serebrier conducting the Royal Scottish National Orchestra (LINN CKD528).
The concerto is an immediately attractive eclectic three-movement work; in the dazzling Phrygian Pick third movement Beaser combines the traditional Andalusian flamenco technique with American bluegrass style. Fisk's performance is simply brilliant. It's an outstanding concerto, and a significant addition to the guitar repertoire.
The solo guitar work Notes on a Southern Sky was influenced by the folk music of Latin America in general and Venezuela in particular. Again, the clarity, agility and tonal variation of Fisk's playing are quite stunning.
Two orchestral works complete the disc: the superb tone poem Evening Prayer, aptly described as demonstrating the melodic and harmonic beauty which characterises Beaser's style; and Ground O, Beaser's own 2011 orchestration of a movement from an earlier work written within a month of the tragic events in New York in September 2001. The RSNO performance under Serebrier is outstanding, particularly in the Evening Prayer.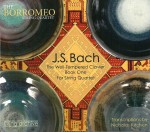 J.S. Bach's two books of The Well-Tempered Clavier have influenced composers since their creation, with both Mozart and Beethoven scoring some of the pieces for string quartet. In the 2CD set J. S. Bach The Well-Tempered Clavier Book One For String Quartet Nicholas Kitchen, the first violin of the Borromeo String Quartet, has finally fulfilled a long-held desire with his transcription of the music for string quartet (living archive LABSQ 101).
The process clearly produced some surprises and challenges for Kitchen and his fellow quartet members as they developed the project, but the end result is extremely satisfying, both musically and emotionally. Kitchen acknowledges that playing the 48 pieces brought the quartet into "a rarified listening-scape," where the extreme demands on the players' need to listen to each other resulted in "a clearer understanding of what is really the essence of musical meaning and spirit."
Luckily, it has also resulted in an engrossing listening experience for all of us.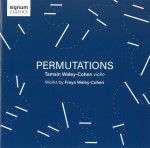 The English violinist Tamsin Waley-Cohen plays two solo pieces written by her younger sister Freya Waley-Cohen on Permutations (Signum Classics SIGCD496).
Permutations is a touring artwork project developed by the sisters and the architectural designers Andrew Skulina and Finbarr O'Dempsey, with Freya writing several different musical characters for both six-part violin consort and for solo violin. The performance setting is "a set of six chambers which spatially distribute the six recorded violin parts… but also give the listener the opportunity to change the acoustic properties and level of isolation for each part. Handing a certain level of artistic and creative power over to the listener was the guiding force in the creation of the artwork."
For this recording Waley-Cohen decided to take back that power and present Permutations in perfectly balanced ensemble. The individual characters are clearly identifiable in the excellent stereo setup, and one can't help but wonder what the effect of the original physical setting must be, given how effective and engrossing the recorded version is.
While writing Permutations Waley-Cohen wrote two other works using some of its musical characters; one of them, Unveil for solo violin, is included here.
At less than 28 minutes this is not a substantial CD, but what it lacks in quantity it more than makes up for in quality. Tamsin Waley-Cohen's playing is exemplary.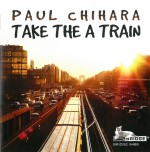 Take the A Train (Bridge Records 9488) is Volume 3 of the eclectic music of the 79-year-old American composer Paul Chihara, whose wide experience includes extensive work for movies and television.
The Gavin String Trio performs the String Trio from 1985, and Jerome Lowenthal is the soloist in the fascinating Bagatelles – Twice Seven Haiku for Piano from 2010. The Girl from Yerevan is an attractive piece from 2014, played here by guitarist David Starobin, violinist Movses Pogossian and violist Paul Coletti.
The final work is a real knockout: the three-movement Ellington Fantasy performed by the Lark String Quartet. Duke Ellington's I'm Beginning to See the Light is a great opener; the arrangement of Sophisticated Lady is quite stunning, and the CD's title track provides a great jazzy ending to an excellent disc.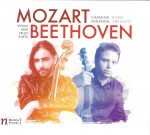 And finally, violinist Boris Abramov and cellist Carmine Miranda combine their talents on Mozart/Beethoven Violin and Cello Duets (Navona Records NV6118).
None of the music here is in its original form. Mozart's Two Duos for Violin and Cello are arrangements of the Duos for Violin and Viola in G Major, K423 and B flat Major, K424, both written as a favour to Michael Haydn to complete a set of six duos he was writing for the Archbishop of Salzburg. The Beethoven work is an arrangement of the Three Duos for Clarinet and Bassoon, WoO27, a set of duets that were probably early works influenced by the Mozart duos but may possibly be spurious.
With their warm tone and nice phrasing Abramov and Miranda make a good case for these versions of the works, although the music itself doesn't allow for a great deal of dynamic range.