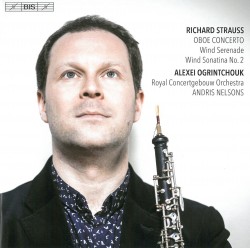 Richard Strauss – Oboe Concerto; Wind Serenade; Wind Sonatina No.2
Alexei Ogrintchouk; Royal Concertgebouw Orchestra; Andris Nelsons
BIS BIX-2163 SACD bis.se
Alexi Ogrintchouk, principal oboist of the venerable Concertgebouw Orchestra since 2005, headlines this new recording of two late works by Richard Strauss. Chief among them is the Oboe Concerto of 1945, which the composer was encouraged to write by the occupying American soldier and, by chance, professional oboist John de Lancie. Strauss, then in his 80s, was cool to the idea at first, but he liked to keep busy even as his cozy world collapsed about him. The resulting 25-minute, single-movement Concerto, while not technically difficult, is exceedingly prolix and taxes the endurance of the soloist to the utmost. Ogrintchouk, blessed with a tone both sweet and secure, is more than up to the task and receives outstandingly sensitive support from the orchestra and conductor Andris Nelsons in this recording nicely cobbled together from three live performances.
The disc also includes a performance of the composer's skilful Serenade in E-flat Major, composed at the age of 18. While it is a minor work, its inclusion here does presage in a curious way the retrogressive, four-square melodic profile of his late style. Personally I was drawn to this recording by the presence of the Wind Sonatina of 1944-45. Subtitled "The Happy Workshop," it is a companion work to the even stranger Sonatina of 1943, "From an Invalid's Workshop." Both are scored for an ensemble of 16 wind instruments, including rare assignments for the clarinet in C and basset horn. The moniker of "Sonatina" is truly droll, as the Second Sonatina is a symphonically conceived, multi-movement 40-minute work. Here the senescent Strauss revels in his expertise in the slippery art of sidestepping chromaticism. The performance, presumably captured under studio conditions, is simply glorious and is captured in pristine sound across a wide and detailed sonic spectrum. Ho boy is it good!