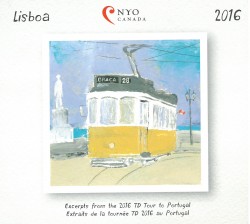 Lisboa 2016 – Excerpts from the 2016 TD Tour to Portugal
National Youth Orchestra of Canada; Perry So
Independent NYOC2016CD (nyoc.org)
The National Youth Orchestra of Canada is an idea as much as it is an ensemble, a very grand idea whose premise is to bring together the finest students of orchestral performance from across the country and give them the invaluable experience of hearing themselves and one another perform the magic that is symphonic music. Hogwarts indeed. Full disclosure: I am a former member of the NYOC.
Lisboa celebrates a tour the band made in summer 2016 to Portugal, and it serves as an example embedded in time of what the idea generates on a yearly basis. The players on this disc likely will be or currently are members of the professional musical community and, while concert reviewers consistently sum up their achievements with qualifications like "they make up in enthusiasm what they lack in polish," reviewing an artifact like this prevents one from falling back on hackneyed faint praise. What the band lacks in terms of professional polish is entirely consistent with more mundane realities like string instruments that might not be acceptable in a truly professional ensemble, and newness to one another, much like any other all-star national team.
The Overture to Tannhauser opens the collection. It is beautifully played, sculpted, committed to. Even if you avoid Wagner, as I do, stay and hear him out in this instance. Imagine how this piece drew these players together. Then prepare to get up and dance as they move on to Prokofiev's Fifth Symphony Op.100. If the Scherzo doesn't knock you on your ass it's because you weren't standing. The Adagio movement is the only weak link: there are ensemble lapses towards the end. In the manner of any seasoned orchestral player, I blame the (clearly able) conductor, Perry So. The task of uniting the voices of this group when uniform phrasing is called for is on the conductor's to-do list, daunting though it may be.
The rest of the double disc presents two brief new pieces: Spacious Euphony, by Christopher Goddard (the NYO/RBC Composer in Residence), and Hope – The Gift of Youth by Chris Meyer (an NYO commission through the Canada Council). The former zigzags in and out of tonality. The latter develops from amorphous clouds of sound to anthem, with a lovely woodwind choir and a stormy tutti ruckus encountered on the journey. Fittingly, both composers are relative tyros with great chops.