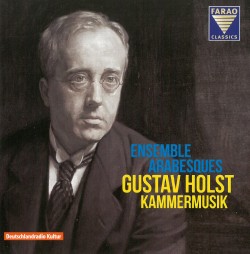 Gustav Holst – Kammermusik
Ensemble Arabesques
Farao Records B 108098 (farao-classics.de)
Gustav Holst composed lots of orchestral and vocal music besides The Planets, but hardly any chamber music or solo piano pieces. This CD presents the bulk of Holst's chamber music, ably performed by Hamburg's Ensemble Arabesques.
In the Quintet in A Minor, Op.3 for piano, oboe, clarinet, horn and bassoon (1896), the wind players are joined by pianist SooJin Anjou. This student composition boasts a lovely chorale melody for the horn in its first movement, and a striking, solemn, processional Adagio. The Sextet in E Minor for oboe, clarinet, bassoon, violin, viola and cello (1900), only recently discovered in the British Library Archives, here receives its first recording. It comprises a sweetly sentimental Moderato, a graceful Scherzo, a mournful Adagio and a final set of variations in which Holst cleverly mixed and matched the six instruments, while giving each its turn in the spotlight.
Both the Woodwind Quintet Op.14 (1903 but unpublished until 1983) and Three Pieces for oboe and string quartet (1910) reflect Holst's fondness for Renaissance and Baroque dance forms, coloured by touches of English folksong. The two-movement Terzetto for flute, oboe and viola (1925), here played by flute, oboe and clarinet, is the most modern-sounding of these works, with a melancholy Allegretto and sprightly Un poco vivace finale.
These "vivace" performances of very ingratiating music showcase a seldom-heard but rewarding side of a composer still known mainly for his single "greatest hit."