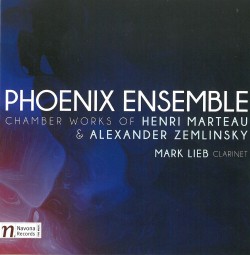 Chamber Works of Henri Marteau & Alexander Zemlinsky
Mark Lieb; Phoenix Ensemble
Navona Records NV6076
Admiration for excellence of execution blends poorly with even mild disappointment in the material presented. Still, one must applaud the playing on this new release on the Navona label. In it, the Phoenix Ensemble presents chamber works of Henri Marteau, a little-known French composer, and Alexander Zemlinsky, a well-known Viennese one. The playing is clean and true, articulations are matched scrupulously, intonation is carefully maintained, all in service of pleasant if somewhat banal material.
Zemlinsky's Trio in D Minor Op.3, for clarinet, cello and piano, is almost a retelling of his mentor Brahms' late chamber work (Op.114) for the same grouping. Zemlinsky became, with Arnold Schoenberg, a major influence on European modern music, but in this piece we hear the emergent student demonstrating his ease with an idiom already becoming dated when it was published (with help from J.B., who recommended it to Simrock, the elder's publisher). Full of wild passionate gestures and chromatically lush harmonies, the trio is high art conceived by a relative tyro, celebrating the grandness of fin-de-siècle Vienna. Mark Lieb on clarinet, Alice Yoo on cello and pianist Wayne Weng match one another flawlessly in service of this charming work.
Henri Marteau's Quintet for Clarinet and String Quartet Op.13 opens with a kind of call and response between solo clarinet and ensemble, leading through a saccharine Andante into an aimless Moderato. And on and on. Marteau seemed to possess the means to say a great deal, yet have only platitudes to speak. I wondered if I was missing a cryptically concealed form, but my attention kept reverting to the question: what is going on here? The remainder of the disc is a woodwind Serenade by Marteau. Listen for anything beyond diverting and deft bits of fun if you will. I stand in admiration of any chamber group that puts flutes beside clarinets and makes it work.